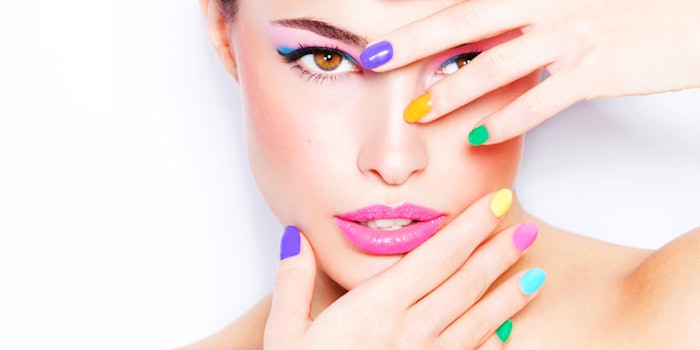 A recent blog post from Kline Group has reported that the nail care market grew by over 6% in 2017, thanks to the nail enhancement category. 
The blog post states, "Resurging interest in the dipping powder systems and the launch of new hybrid gels are among the key drivers moving this market forward."
Market data, which can be found in Kline's soon-to-be-published "Professional Nail Care: Global Market Brief," indicates nail enhancements saw 18% growth in 2017 due to an increase in demand for dipping powder systems. Kline explains that the dipping powder trend began in 2016 and became mainstream in 2017. Variations to dipping powders have also been introduced, including temperature-activated, mood-changing powders and powders offering ombre effects.
New Dipping Powder Systems Introduced in 2017
Cuccio Pro Powder Polish
Artistic Nail Design Perfect Dip
NSI Simplicité PolyDip System
Gel II Skyscraper Nail Liquid and Powder System
LeChat Nail Architecture System
Charisma Nail Innovations Acrylic Powder
LeChat Gelée Mood Powder
OPI Powder Perfection
ASP Quick Dip System
Gelish 

dips and Polygel
The blog post also states a new segment of hybrid gels can be attributed to the market's growth. These gel products offer consumers the elements of both acrylics and hard gels, however, they require no mixing and give nail technicians full control of the dispensing, sculpting and curing. 
According to Kline Group, the popularity of dipping powders and other nail enhancements has had negative implications on the sales of traditional hard gels and acrylics, primarily in North America. 
For the full blog post, please visit www.klinegroup.com