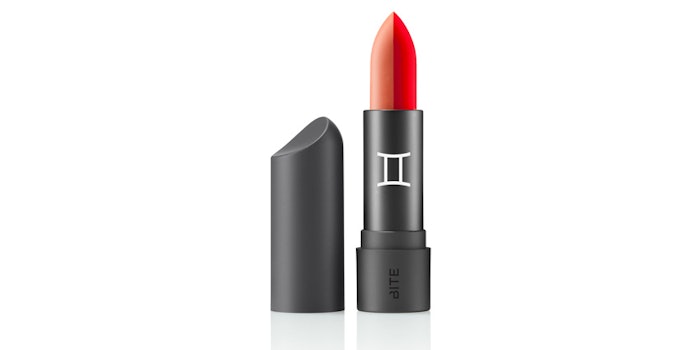 Bite Beauty is giving lipstick-loving consumers the ability to pair their makeup looks with their respective astrological sign.
The limited-edition Astrology by Bite collection features the company's Amuse Bouche Lipstick. Each month a new shade will be debuted with its astrological sign in mind. Bite consulted with Tara Greene, a professional psychic and astrologer with 25 years experience, to create its star sign descriptions. 
Key ingredients include resveratrol, castor seed oil, jojoba wax, shea butter, sunflower seed wax, orange peel wax, sunflower seed oil, grape seed extract and monk fruit extract. 
Astrology by Bite Includes...
Aquarius: A "modern berry";
Pisces: A "muted, neutral peach";
Aries: A "bright orange-red";
Taurus: A " muted, white-chocolate rose"; and
Gemini: A dual-colored bullet in a red and "warm nude" (pictured).
Lipsticks in the collection retail for $26 each and are available on Sephora.com and Bitebeauty.com. Shades for Aquarius, Pisces, Aries and Taurus all sold out within 24 hours of going on sale.