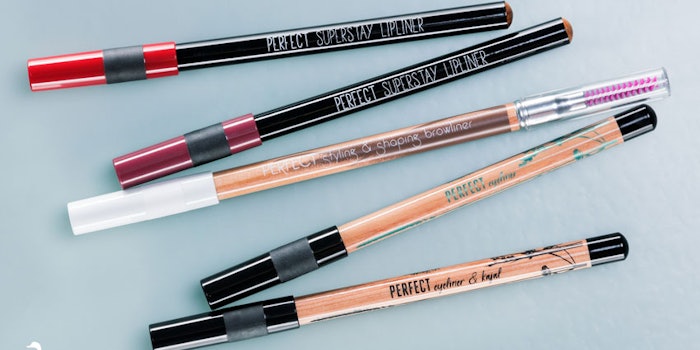 Eco-friendly beauty is one trend having a major impact on the beauty and personal care industry. 
Dagmar Chlosta, chief market officer at Schwan Cosmetics, spoke with Global Cosmetic Industry about Schwan's eco-friendly pencil—made of renewable wood and designed to hold the finest, top-performing formulas on the market—and how the products utilize innovative technology that allows for high-tech ingredients to be used in a wooden pencil. 
These eco-friendly pencils were selected for the Innovation Tree at MakeUp in Paris 2018.
Global Cosmetic Industry (GCI): What types of formulations can be housed in this new line of pencils?
Dagmar Chlosta (DC): For the first time in the history of wooden cosmetic pencils, we are able to put high performing formulas in wood, enabling a creamy and gliding application combined with a new level of lastingness up to 24 hours.
GCI: What were the traditional technical challenges with putting high performance
formulations in a pencil format?
DC: Wood is a natural material - and not an airtight packaging. The biggest challenge has been to find a system that allows the combination of wood with these demanding formulas. Therefore, we offer now the perfect blend: top performing formulas in a casing made of wood.
GCI: What opportunities does this technology create for brands?
DC: This concept addresses a dramatically growing worldwide consumer demand for conscious, eco-friendly products and packaging that does not compromise on performance, quality and product safety. Especially the millennials are a very conscious generation, and as a beauty manufacturer, we have to provide them with packaging options that are in line with their beliefs in a sustainable planet.
GCI: Finally, is there anything else you'd like to say about the technical aspects of the pencils? Anything a brand owner/marketer or product developer might want to know?
DC: This product line is the result of a passion for continuous innovation, dedication and commitment of our research and development team. This new milestone in our innovation journey makes us very proud—but you will understand that we cannot divulge proprietary information.