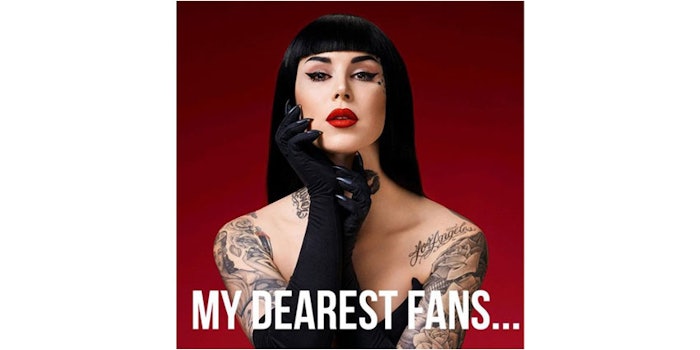 Kat Von D took to Instagram to announce her departure from Kat Von D Beauty.
According to the post, she has sold her shares of the brand, turning it over to Kendo. The brand will now go by the name KVD Vegan Beauty. 
Kendo's current beauty portfolio includes Marc Jacobs Beauty, Bite Beauty, Lip Lab by Bite, Ole Henrikson and Fenty Beauty.
A portion of the Instagram post reads:
"I've decided to sell my shares of the brand, turning it over to Kendo, my partners for the past 11 years. This was not an easy decision, but after careful consideration, I decided I wanted the makeup line to continue to thrive and grow, and I believe Kendo is primed to do just that.
"The transition for you, my loyal customers, will be seamless. In order to avoid any confusion with such a big change, Kat Von D Beauty will take a moment to rebrand itself, so you will start noticing the change from KatVonD Beauty to KvD Vegan Beauty. I'd like to thank my beloved fans+followers who supported my vision to create a brand that stood for compassion, true artistry, and challenged modern ideals of beauty — most of which I never could relate to. I was able to create a makeup line that made outsiders like me feel like we have a place in this "beauty" world, and gave myself and others the tools to express ourselves in our own unique way, whether it was embraced by the majority or not. And I just couldn't have done any of this without you!"