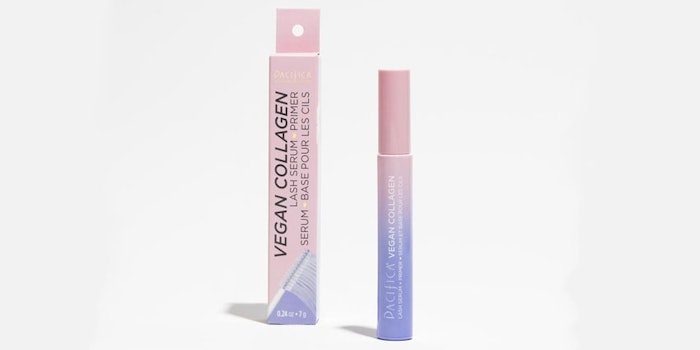 Pacifica has launched its two-in-one Vegan Collagen Lash Serum + Primer, which is said to coat the hair cuticle to condition while improving lash strength and softness. 
Previously: Lawless Launches One & Done Mascara
It contains vitamins B and E as well as kaolin and plant wax to prep the lashes for mascara while maximizing conditioning, volume, and breakage prevention support.
The product goes on white to amplify the color of your mascara. 
Its 100% vegan brush dispenses the formula evenly onto each lash. The package also features a 100% glass bottle for less plastic usage. 
The Vegan Collagen Lash Serum + Primer pairs with Pacifica's Vegan Collagen Fluffy Lash Mascara. 
Ingredients: Water (Aqua), Copernicia Cerifera (Carnauba) Wax, Stearic Acid, Glyceryl Stearate, Mica, Oleic Acid, Hydroxyethylcellulose, Alkyl Hydroxystearoyl Stearate, Sr-Hydrozoan Polypeptide-1 (Vegan Collagen), Tocopheryl Acetate, Panthenol, Kaolin, Lauroyl Lysine, Glycerin, Silica, Potassium Sorbate, Caprylyl Glycol, Glyceryl Caprylate, Sodium Benzoate, Ethylhexylglycerin, Phenoxyethanol.