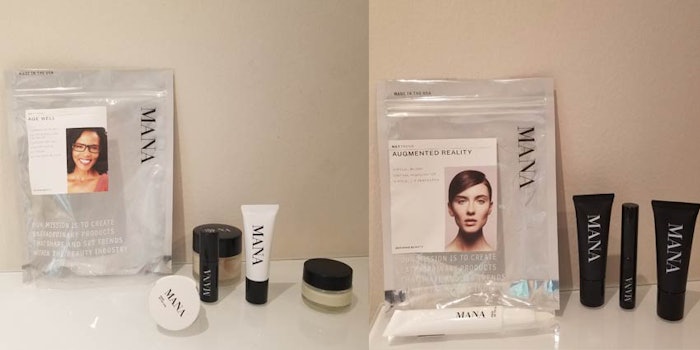 MANA has tackled well aging and digitally inspired innovation with two new concept collections: the Age Well Collection and Augmented Reality Capsule Collection. The formulations offer color paired with nourishing ingredients, as well as, in some cases, technologies that personalize color absed on the wearer's pH
The Age Well Collection features the company's proprietary Age Well blend of natural actives paired with a 3D matrix delivery system.
The technology targets mitochondrial aging and reportedly helps reduce the presence of senescent cells in the skin to promote healthy aging by enhancing skin firmness, elasticity and glow, and diminishing the appearance of wrinkles and skin fatigue by energizing, oxygenating, hydrating, detoxifying, and helping stimulate the skin's defenses against pollution and artificial visible light (notably blue light).
Report: Mindful Color Cosmetics
Products in the collection include the Illuminating Primer, Tighten & Brighten Concealer, Blurring Lipstick, Moisture Cream, Eye Cream, and Whipped Body Butter.
The formulations reportedly help promote collagen and hyaluronic acid production in the skin.
The Augmented Reality Capsule Collection, meanwhile, is designed to enhance the wearer's natural features, rather than imparting "artificial" looks.
The light-textured Virtual Blush Serum imparts hydration and sheer color. It "applies invisibly and then instantly transforms into a wash of natural-looking, personalized color as it reacts with the wearer's pH," per MANA. Ingredients include 0.05% stain, and skin-friendly polymers, vitamins C and E.
The lightweight, non-sticky vegan and silicone-free Virtual Highlighter serum creates a glass skin effect. The formulation comprises skin-friendly polymers and vitamins C and E.
The Virtual Lip Perfector imparts a soft, sheer, rosy flush of natural looking color personalized by the wearer's pH. The formulation comprises nourishing and anti-inflammatory soybean oil, and conditioning and antioxidant vitamin E.