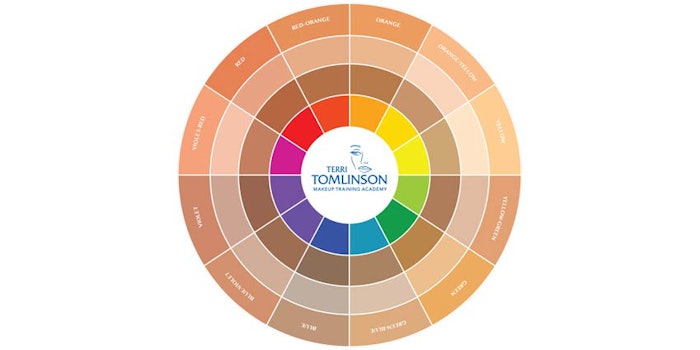 Terri Tomlinson, a Texas-based makeup artist and educator, is launching "Color Match," a 10-part digital color theory class, in August 2021. Per Tomlinson, the series "helps train the eye to see color in skin and work the principles of color theory in neutral, in skin and in makeup." It will help train the students' eyes to "see color-in-color and understand how to work color theory to create custom matches to skin and perfect correction."
Tomlinson is the developer of The Flesh Tone Color Wheel (pictured), a guide for working the principles of color theory in makeup. The wheel shows undertone, correction, best colors for eyes, cheeks and lips, as well as what color looks like when neutralized.
The wheel was initially developed as a tool for students, but has since been adopted as a tool in the kits of makeup professionals. Tomlinson has also been brought in by brands to do training.
"I created The Flesh Tone Color Wheel for my students as a visual guide, to show them what color theory looked like in skin tone," said Tomlinson. "What I have found is that working with the wheel allows an artist to actively apply the principles of color theory to all aspects of their makeup application. It is both a guide and a tool and it has changed the way I do makeup and expanded my abilities as an artist and educator."
She added, "When an artist can connect the principles of color theory to our canvas of skin, it opens up a whole new level of skill and understanding. I have literally witnessed the moment when it all clicks for them, when that light bulb turns on and they can suddenly see color theory in neutral, in skin. It gives the artist a 'why.' Why they choose a certain color, why they apply a certain product. And with a reason 'why' comes intention. Once an artist has intention in their application, in their process, there is nothing they can't accomplish."
"Thank you for creating an innovative tool for expanding on and for further understanding the knowledge of color relating to makeup–you are a genius," said Eugenia Weston, owner of Senna Cosmetics and Emmy-nominated artist. "To create something that's never been done before is astounding–kudos to you for your hard work, passion and devotion to your craft–being able to teach and share your knowledge is a virtue."