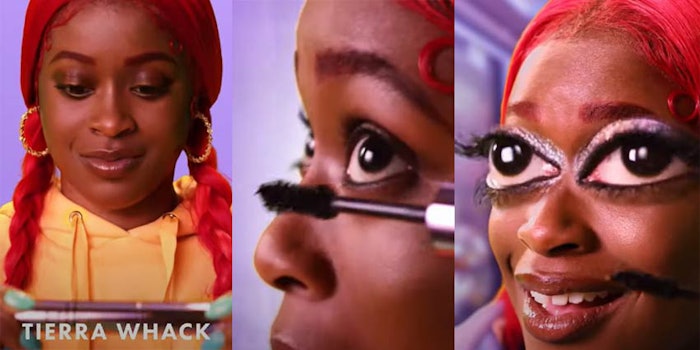 e.l.f. Cosmetics has launched its Big Mood Mascara, its "loudest" volumizing, smudge-free mascara, in partnership with recording artist Tierra Whack. The formulation retails for $7 and is "clean, cruelty free and vegan," per the brand.
The packaging features an hourglass brush head that maximizes lift and volume. The formula includes jojoba wax for hold.
Big Mood Mascara will retail at stores such as Target, Walmart and Ulta Beauty, as well as Shoppers Drug Mart in Canada, some Douglas stores in Europe and Superdrug in the United Kingdom. It will launch at Boots on August 11.
Previously: e.l.f.'s Electric Mood Collection
Big Mood's launch includes a $25,000 contribution to Women's Way of Philadelphia, a nonprofit dedicated to empowering organizations and individuals to take action to support equal opportunity for women, girls and gender equality. 
"I support and really appreciate Women's Way mission of gender equity and commitment to economic security," said Whack. "They work hard to ensure that women have the right to equal opportunity and equal wages to provide for their futures." 
The campaign features Whack's song, "Walk The Beat," which highlights the artist's "whack world" take on style and fashion. e.l.f. Cosmetics will work with TikTok influencers to encourage consumers to share their Big Mood energy in posts.
The campaign looks were c-developed by Whack's makeup artist, Camille Lawrence.
"I'm obsessed with Big Mood Mascara, and the bright metallic packaging matches Tierra's style," said Lawrence. "The wand is a perfect shape to build length and volume, and the formula is so hydrating. It's buildable, breathable and bold!"
"Everything we do is designed to inspire confidence and creativity," said Kory Marchisotto, chief marketing officer, e.l.f. Beauty. "With Big Mood, we're being e.l.f.ing disruptive in the mascara category and transforming expectations for big, bold and beautiful lashes at an incredible price point."
"Tierra connects with and inspires people through her music and creative executions," said Patrick O'Keefe, VP, integrated marketing communications, e.l.f. Beauty. "Tierra is a leader, and she brings joy to everything she does. We're excited for this epic launch that will combine the energy, style and creativity of Tierra and Big Mood!"