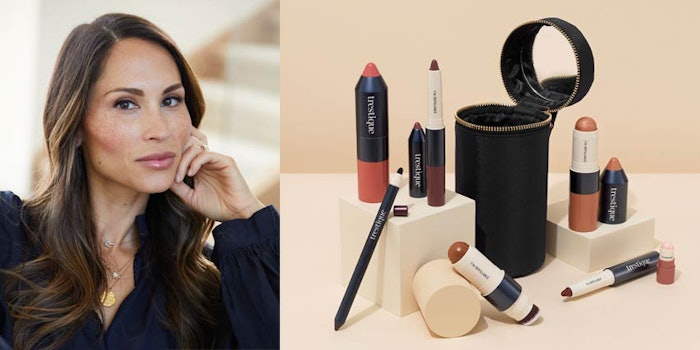 trestique co-founder and CEO, Jenn Kapahi, recently offered an inside look at the relaunch of the brand's routines, featuring clean, zero-waste, cruelty-free refillable/reusable makeup.
Launching September 1, 2021, full-sized products will retail from $20 to $34, while refills will range from $15 to $25.
Further reading: Our 2017 Profile of trestique

Kapahi applied her engineering mindset to the challenges of developing the refillable/reusable makeup housing, as well as other facets of the packaging. 
She explained that she spent last two years working on the project, in part in response to consumer requests for refillable and more sustainable versions of products. However, engineering packaging to be "forever" is difficult, necessitating proprietary designs.
The CEO added that, in the process, the brand managed to reduce its use of virgin plastic by 90% overall, with the majority of its products made using at least 86% post-consumer and/or post-industrial recycled materials. In addition, each of the brand's makeup bags is made from a single plastic bottle.
In addition, trestique uses FSC-certified paper and soy-based ink for all cartons and consumer mailers. The paper used is 100% recyclable, per the brand.
Beyond the products, the brand is a member of 1% for the Planet and is Certified Carbon Free (i.e., carbon-neutral) via offsets, per carbonfund.org.
As for the formulations, in addition to the cruelty-free and vegan status, trestique has expanded its shade ranges to ensure enhanced inclusivity. Kapahi pointed out that the brand already featured clean formulations, in part a reflection of having grown up on an organic farm.
The range comprises the Foundation Stick, featuring skin care-inspired ingredients to boost collagen and lock in moisture, as well as the brand's Carrot Complex for additional blue light defense; the Concealer Crayon, the Highlight Stick, the Blush Stick, the Bronzer Stick; the Matte Lip Crayon + Balm; the Prime + Shine Lip Crayon with a built-in lip primer; the Brow Pencil + Gel; the Shadow Crayon; the Good Vibes Mascara; and the Eyeliner.
The brand relaunch will include a revamped website, enhancing the brand's ability to connect with consumers.
Kapahi noted that trestique enjoyed 100% growth in 2020, driven in part by its focus on customization of routines, rather than individual products. She explained that the brand averages five products on average per order.