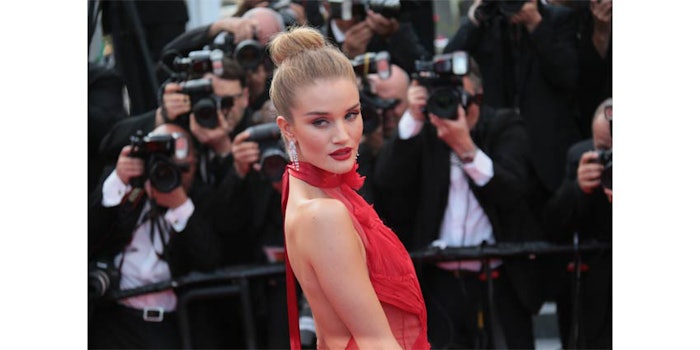 Former model Rosie Huntington-Whiteley is launching her own beauty brand, Rose Inc.
Related: Seen Launches Community x Seen in United States
Rose Inc. describes its values as "a brand founded on effortlessness and visible effectiveness. A brand that delivers clean formulas and clinically proven results. One that values the sensual and is committed to sustainability."
The brand announced the debut line of products—all developed from five proprietary bioengineered botanical ingredients.
Rose Inc. claims its products are created using 25% post-consumer recycled (PCR) plastics and sustainable packaging, including FSC-certified paper cartons made with 30% hemp and rinse-off labels manufactured with a 90% PCR liner.
Huntington-Whiteley says, "Time is a luxury we rarely have, so these products were developed to create an instant effect with ease."
Debut Launch Products:
Blush Divine Radiant Lip & Cheek Color (featuring squalene,

marine ferment extract, 

sodium hyaluronate and vitamin E)
Softlight Luminous Hydrating Concealer (featuring botanicals, squalene, sodium hyaluronate and vitamin E)
Lip Sculpt Amplifying Color (featuring 

hyaluronic acid, squalene, ceramides, hemp and vitamin E)

Brow Renew Enriched Clear Shaping Gel (featuring squalene, pea sprout and vitamins E and B5)
Brow Renew Enriched Tinted Shaping Gel (featuring 

squalene, pea sprout and vitamins E and B5)

Radiant Reveal Brightening Serum (featuring 

squalane, vitamin C and sea fennel extract)

Skin Resolution Clarifying Toner (featuring squalane, pink clay powder and multiple acids)
Reusable Cosmetic Rounds (made with organic bamboo cotton)
Number 1 Concealer Brush (made with v

egan bristles, 25% PCR handle)

Number 2 Blush Brush (made with vegan bristles, 25% PCR handle)
Travel Size Brow Renew Enriched Clear Shaping Gel (featuring 

squalene, pea sprout and vitamins E and B5)

Divine Color Blush & Brush Set (featuring 

squalene, vitamin E, and marine ferment extract)

The Modern Essentials Edit (featuring the Blush Diving Radiant Lip & Cheek Color, Softlight Luminous Hydrating Concealer and Brow Renew Enriched Tinted Shaping Gel)
Divine Radiance Serum & Blush Set (featuring the Blush Diving Radiant Lip & Cheek Color & Radiant Reveal Brightening Serum)