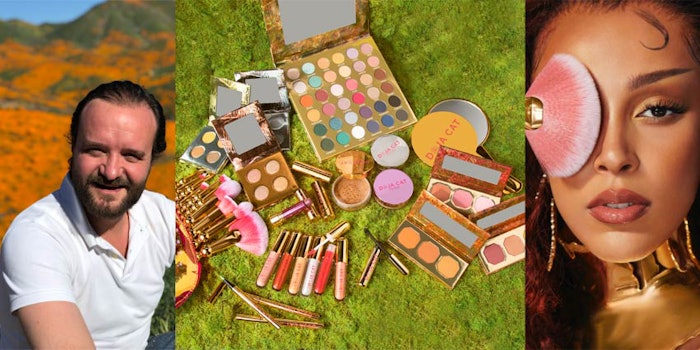 BH Cosmetics has added another high-profile music collaboration, this time with Doja Cat.
On Instagram, Doja Cat said: "So excited to announce this collab with @bhcosmetics for my first ever beauty collection! Who's ready for #BHxDojaCat dropping this Saturday 9/25!"
Report: How BH Cosmetics Went Global
 According to Allure, the collection includes:
The 36-shade Mega Shadow Palette ($36)
The Mirage Lip Balm in Heavy Tint ($9)
The Muse Plumping Lip Gloss in Berry ($12)
The Elements Mini Shadow Quad ($14)
The Blooming Volumizing & Lengthening Mascara ($16)
The Flora Powder Blush Trio in three shades ($16)
The Prism Loose Powder Highlighter in three shades ($14) 
The Goddess Calligraphy Eyeliner in three shades ($11)
The Metamorphosis 10 Piece Brush Set with Bag ($36)
The Reflection Hand Mirror ($18)
Global Cosmetic Industry recently spoke with Yannis Rodocanachi, CEO of BH Cosmetics, about the collaboration. 
How does BH identify the personalities that are the right fit for collaborations?
Rodocanachi: Everyone we work with exemplifies our "Badass with Heart" mantra at BH Cosmetics. We say "badass" meaning they have a strong point of view and a willingness to make impactful change as leaders, but most importantly they do it with kindness, positivity and heart–heart for the community, heart for the planet.
Of course, they must also have a love of makeup and artistry, an authentic passion for the space. This extends beyond our collaborative partners to the people that work at BH Cosmetics and the retailers we align with.
How is the color cosmetics category faring?
Rodocanachi: It is to no surprise that the color cosmetics category has been severely impacted by COVID. When you aren't going out or have social gatherings to attend, you feel less compelled to get ready and put a full face of makeup on.
A few interesting trends developed during this time though where we saw a big focus on dramatic eye looks and increased demand for no-transfer lip products to coincide with mask wearing.
Thankfully we are starting to see some new vital signs emerge and a recovery starting to happen in the industry so I am optimistic for the future.
Previously: "Doja Cat is a true creative genius and we were honored to work alongside her to launch this special collection," said Rodocanachi. "She really is a 'Badass with Heart'–our brand manifesto at BH–and it was such a pleasure to embark on this epic adventure to make these concepts a reality. I'm so excited for everyone to experience this incredible project. This was a truly authentic collaboration from start to finish."
"This collaboration is such a full circle moment for me. I grew up doodling in school and always had an artistic eye, so naturally experimenting with makeup was a huge part of my life as a teenager," said Doja Cat. "One of the first shadow palettes I ever purchased was from BH Cosmetics and I'm so proud to release this collection with them."
Fabrice Gibert-Darras, CMO and general manager of BH Cosmetics, added, "I remember the first time that I heard and saw Doja, she immediately stood out. She has something different to say and show, and she's continuously pushed aesthetic boundaries with her unique point of view. This is everything that BH seeks in a creative collaboration. We are so proud of this partnership and the collection that we developed together."
"We couldn't be more excited about launching this stellar collection at Ulta," said Alison Romash, deputy chief marketing officer and head of retail sales at BH Cosmetics. "It's the perfect place for Doja's fans and the young beauty community to discover the luxurious quality of these products–they're a real game-changer for the masstige makeup space!"