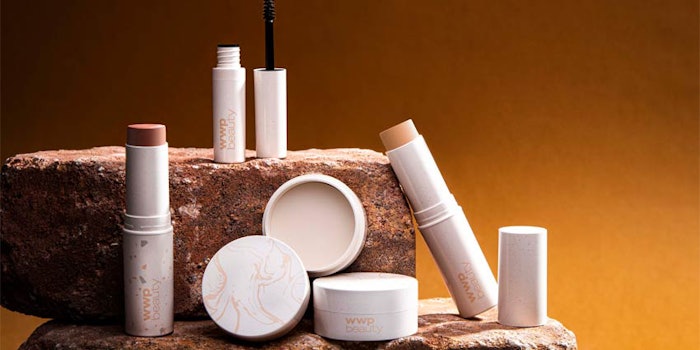 WWP Beauty has launched a new offering of turnkey products, Zero+ Collection, featuring formulations and packaging made from natural, renewable ingredients sourced and created from farm waste. The collection includes three multi-purpose products paired with accessories to address trends within the beauty industry and showcase WWP's full-service capabilities.
Event alert: WWP Decodes the Refill Revolution

The Zero+ Turnkey Collection uses plastic-free, plant-based packaging, developed to align with WWP Beauty's "6R's of Sustainability." It is locally sourced from farm waste, which does not interrupt the food chain supply and reduces the overall carbon footprint of the material and final component, according to the company.
The three multi-purpose products included in the collection are Skin Prep + Perfector, Face + Eyes + Lips Enhancer and the Brow Shaper + Styler.
The Skin Prep + Perfector is formulated with beetroot extract, elderberry extract and sea moss.
The Face + Eyes + Lips Enhancer features a blend of squalane, sea moss, and elderberry extract. 
Zero+ Brow Shaper + Styler is infused with Jamaican black castor oil and fenugreek.
Musa Dias, CMO of WWP Beauty, says, "Now more than ever, we are seeing beauty consumers increasingly adopt streamlined beauty routines based on multifunctional products born from the desire to buy more sustainably, while also simply saving time and money. The Zero+ Collection was developed based on the concept that less is truly more, and that creating zero waste is, in turn, creating positive value for both the end-user and the environment."