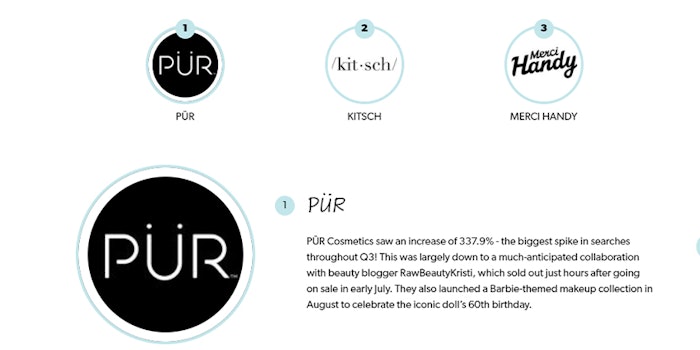 Cosmetify's Beauty Index has revealed the top 10 brands that saw an increase in popularity, as well as the brands that experienced a popularity decrease, based on the platform's search volume in 2020.
Related: Germany's 2020 Prestige Beauty Sales Declined 16%: NPD
Brands that grew in search volume

PÜR 3337.9%

Kitsch 115.5%

Merci Handy 65.6%

Jouer Cosmetics 29%

Le Labo 23.7%

EOS 20.7%

Diptyque 14.4%

Wet n Wild 14.4%

Pacifica 13.2%

Jo Malone London 8.5%
PÜR's increase could be due to the collaboration with beauty influencer Raw Beauty Kristi that sold out hours after its launch in July. 
Kitsch and Merci Handy are both on the rise due to the necessities they offer: Kitsh's different style protective masks and Merci Handy's hand saniziter in holographic packaging. 
Three fragrance brands, including Le Labo, Diptyque and Jo Malone London, all saw an increases as well.
Brands that dropped in search volume
Bleach London 67.30%

Bali Body 67.10%

Doll Beauty 58.10%

KVD Vegan Beauty 57.40%

Beautyblender 53.40%

SUVA Beauty 50.20%

Mari Badescu 49.10%

Bondi Sands 48.90%

Sand & Sky 48%

Summer Fridays 46.60%
Bleach London saw the biggest dip, which Cosmetify claims could be attributed to dwindling interest in hair dyes following the first lockdown of 2020.
With lockdown in place, tanning brands Bali Body and Bondi Sands both saw a drop, as well as numerous color cosmetic brands, which could be due to people staying home, makeup-free.