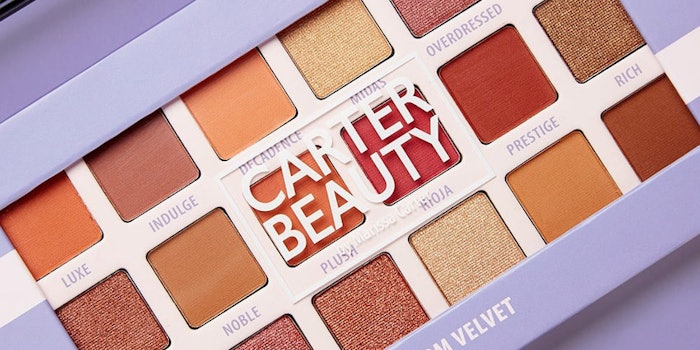 Carter Beauty, founded by Irish celebrity Marissa Carter, has launched across 1,500 Walmart stores in 47 U.S. states.
Related: Zara Beauty Launching Soon
Carter Beauty is a member of Beauty Without Bunnies and produces vegan cosmetics products that are 100% cruelty-free and never tested on animals. It is also the first Irish cosmetics brand to secure an in-store listing in Walmart.
The following products are now available at participating Walmart locations:
Warm Velvet, 18 Shade Eyeshadow Palette

Smooth Nude, 18 Shade Eyeshadow Palette

Sweet Apricot, 18 Shade Eyeshadow Palette

Apollo, Mini Bronzer Palette

Cupid, Mini Bronzer Palette

After Dark Volumizing Mascara

Supreme Gel Eyeliner

Word of Mouth Lipstick

Free Speech Lip Tints
Carter, founder and CEO of Carter Beauty Cosmetics, said, "The United States is a massive market for the beauty industry with every cosmetics brand fighting for shelf space, I've been working to build my network in the US since the beginning of my career, and it's such an honor for a retailer like Walmart to list Carter Beauty so early on in our journey. Our customers can expect to see a lot more from Carter Beauty in the years to come."
Anderson Pearce, vice president of customer retail, Enterprise Ireland, said, "The United States cosmetics industry is booming with so many hard-working, talented creators. It's exciting to see an Irish-based brand with such a passionate and determined female leader start to make a name in the industry so early on with one of America's largest retailers. This is such a huge accomplishment for the brand, and we expect to see Marissa continue to grow her brand–this is just the beginning."