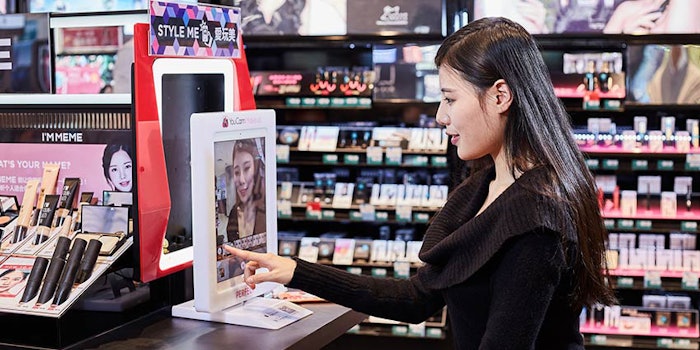 Health and beauty retailer A.S. Watson  has teamed up with L'Oréal for Colorlab by Watsons, a concept makeup store in China.
The experience-led space offers guests access to makeup artists, as well as a chance to try out and experiment with various color cosmetics products. More than 30% of the store consists of L'Oréal and Maybelline products, specifically; additional brands include Watsons' Makeup Miracle and Collagen, Japanese brand Kiss Me and the Korean CLIO.
Related: L'Oréal Sees "Strong Pace of Growth" for the First Half of 2018
Since the launch of the first Colorlab store in January 2018 in Shenzhen, China, the concept has expanded to Shanghai and Guangzhou. An additional 50 stores are slated to roll out around the country by the end of 2018.
Special report: Decoding Asian Beauty Trends and Ideals
Malina Ngai, group chief operating officer at A.S. Watson Group, commented: "Makeup was identified as a huge growth area for Watsons and working with L'Oréal on the development of this new store concept meant that we had the expertise of an established makeup supplier at the forefront. Colorlab stores put the customers experience first and rather than just purchasing makeup, we wanted to give customers access to advice and expertise from skilled makeup artists, as well as the opportunity to try out different looks and play about with new products."
"Watsons has the reputation as the best health & beauty brand in Asia and we are excited to be working in partnership to launch Colorlab, a concept we are sure will be seen as one of the best stores for beauty," added Samuel du Retail, L'Oréal China vice president, consumer products division general manager. "These new stores offer customers more than just a wide range of makeup products, they offer a makeup experience with access to instore makeup artists for consultations as well as a wide range of collateral on makeup trends and new looks to inspire them."