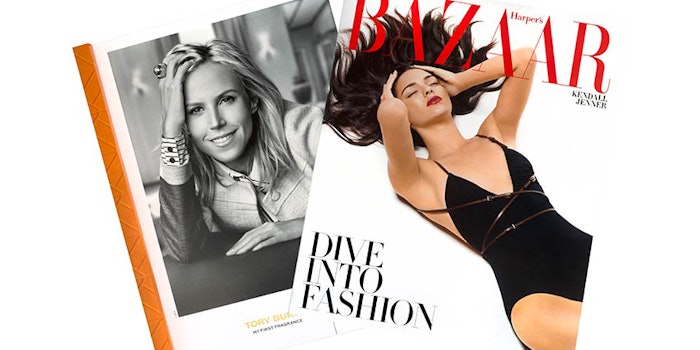 The world of beauty sampling in magazines is welcoming some much-needed innovation (no offense to the trusty Scent Strip): Integrated Branding and Media Group (IBMG) has unveiled Cover5, an activation model that helps beauty, health and wellness brands send premium-sized samples to consumers through magazine subscriptions.
The product is housed in a customized and branded "fifth" cover; brands can offer single or multiple samples of a scent, skin care or cosmetics. The Cover5 platform consists of two components on targeted publications:
Onsert-AD card—A branded onsert designed around the product which can include up to three deluxe samples, housing and protecting the product while also displaying the ad imagery and campaign messaging. It is positioned alongside the spine of the magazine, so consumers can access the product before opening the issue.
Branded deluxe wrapper—An outer premium wrap showcasing the brands colors, graphics and imagery, surrounding the entire magazine.
"When we deliberated this concept a few years ago, we were inspired by tradition and proven methods of reaching the customer. We realized we could deliver something that digital could not and that is the opportunity to try a product at home with no in-store pressure," said co-founder Mark Husmann. "Estée Lauder  revolutionized the industry in 1949 by introducing sampling, and it's something the industry now needs to re-evaluate and evolve."