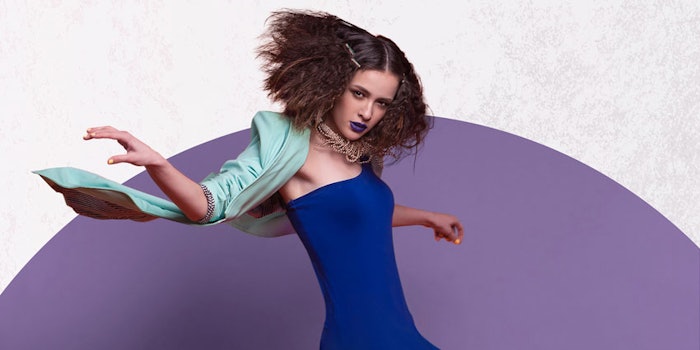 BASF's Colors & Effects brand has partnered with Pantone Color Institute for the launch of the Fall/Winter 2020/2021 and Spring/Summer 2021 color trend forecasts for cosmetic and personal care colors and effects. 
The forecast, dubbed "Time to Break Free," is the result of analyzing both consumer research and fashion trends. It is inspired by themes of tranquility, peace, privacy and "me time" to escape everyday stresses, BASF explained. 
Time to Break Free is made up of two seasonal trends—"Incognito" for Fall/Winter 2020/2021 and "Bliss" for Spring/Summer 2021.
Incognito 
According to BASF, Incognito was inspired by mystery and the return of privacy. The collection includes a neo-nude color palette containing edgy neutrals.
Colors in the Fall 2020 palette include Pantone's Hushed Violet and Etherea.
Fall 2020 formulations include sparkling effects using pigments such as Chione HD Infinite White.
Incognito Winter 2020/2021 include Pantone's Elderberry and Turkish Coffee. 
Incognito Winter 2020/2021 formulations include metallic effects using pigments such as Gemtone Radiant Nude.
Incognito is featured in a collection of unique formulations including a liquid AllOver Balm; a velvety Liquid Lip Matte; creamy Eyeshadow Mousse; and a hydrating PeelOff Metallic Mud Mask.
Bliss
BASF states that Bliss embodies playfulness and the celebration of "me time" and includes refreshing colors and uplifting effects that offer a springtime glow and the perfect highlight.
Colors in the Spring 2021 Bliss palette include Daquirose and Sweet Summer Glow.
Effect pigments in the Spring 2021 Bliss collection include Reflecks Pinpoints of Pearl.
Summer 2021 Bliss colors include Marmalade Margarita and Sunset Gold.
Effect pigments include Reflecks Clearly Copper.
Bliss is featured in a collection which includes a Powder Spray Eyeshadow; a PeelOff Eyeliner; a frozen cocktail-inspired creamy Lipstick; Hair Makeup Cream that adds shine, color and flair; and a satiny Jelly Highlighter that applies like a jelly but sets like a powder.
Diane Jansson, global business manager, Cosmetics at BASF Colors & Effects, said, "As one of the world's leading pigment suppliers, it is our goal to provide customers with colors, textures and trends based on in-depth market research, cultural influences and emotional drivers. We want to inspire fresh and innovative applications to help our customers create impactful and relevant experiences that truly resonate with consumers." 
For more information please visit www.basf.com.