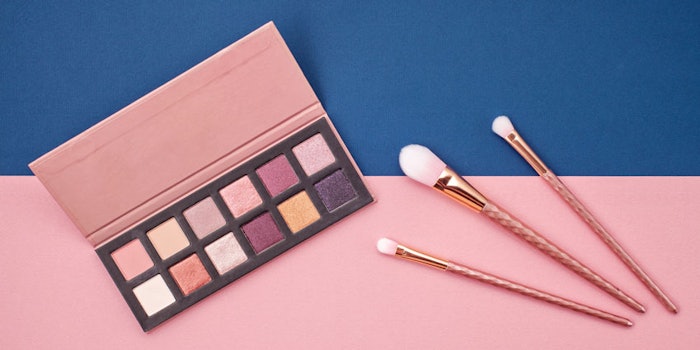 Tribe Dynamics has announced the 10 cosmetics brands with the most earned media value (EMV) for November 2018.
EMV is Tribe Dynamics' proprietary metric for quantifying the estimated value of consumer engagement with digital earned media.
The Top 10 Cosmetics Brands
Anastasia Beverly Hills' EMV decreased 21% YoY to reach $77.3 million
Huda Beauty's EMV increased 35% YoY to reach $64.1 million
Morphe's EMV increased 36% YoY to reach $63 million
MAC's EMV decreased 25% YoY to reach $55.6 million
Benefit's EMV decreased 11% YoY to reach $42.9 million
Too Faced's EMV increased 2% YoY to reach $42.7 million
NYX Professional Makeup's EMV decreased 19% YoY to reach $38.9 million
Urban Decay's EMV decreased 10% YoY to reach $34.8 million
ColourPop's EMV increased by 41% YoY to reach $34.77 million
NARS' EMV increased by 66% YoY to reach $34.2
Neither ColourPop nor NARS were in the previous month's Top 10. 
Tribe Dynamics placed special focus on cosmetics brands that collaborated with beauty influencers. According to Tribe, several influencer collaborations led to growth among November's Top 10.
Morphe
Morphe lead with the most month-over-month growth at 35%. This growth was reportedly spurred by its collaboration with YouTuber James Charles, who generated $7.0M of Morphe's $63.0M EMV total. The collaboration's 39-shade palette and brush set drove $18.4 million EMV. According to Tribe, 643 content creators mentioned the collaboration in November, 410 of whom did so more than once.
ColourPop
The brand's partnership with Bretman Rock helped secure a spot in November's Top 10. Additionally, the partnership prompted 26% MoM growth, which ranked No. 2 in the set. Bretman Rock generated $2.3 million to ColourPop's $34.8M EMV total. The collab allegedly garnered $4.8M EMV from 229 ambassadors.
Too Faced
At the end of November, the brand released its Pretty Rich collection in collaboration with Jordyn Woods. Too Faced saw a 4% MoM growth in November while the collection drove in $1.7 million EMV. Jordyn generated $333.8k across six November brand mentions.