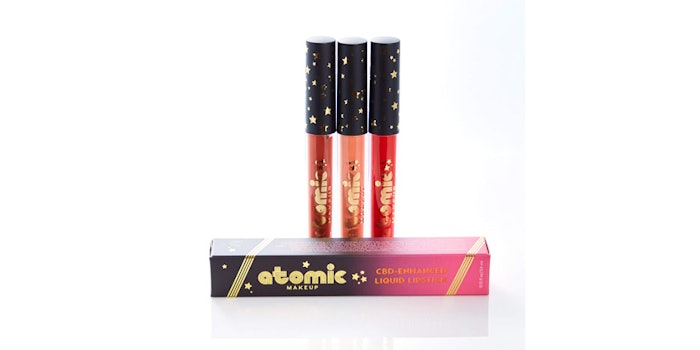 Atomic Makeup is leveraging the skin care claims of CBD for its line of makeup products. 
According to the brand, the line of lip glosses, lipsticks and cream eyeshadows take advantage of the naturally occurring anti-bacterial, anti-inflammatory and moisturizing properties of CBD.
All Atomic Makeup CBD lipsticks and lip glosses contain 10mg of hemp-derived CBD. CBD Eyeshadows contain 5mg of CBD. All products are THC free. 
Products include: 
Cream Eyeshadows are meant to be used as a shadow, highlight or lip topper. The cream base formula uses antioxidant-rich and anti-inflammatory CBD to soothe eyelids.
Atomic CBD-Enhanced Lip Glosses act as a moisturizing gloss that can add a hint of color and shine, available in a variety of colors.

Atomic CBD-Enhanced Liquid Lipsticks' silky-matte formula offers a pigmented look with the added moisturizing benefits of CBD, in a variety of colors to complement any skin tone. 
Atomic Makeup plans to release other CBD makeup products, including liquid foundation and concealers, in 2019.