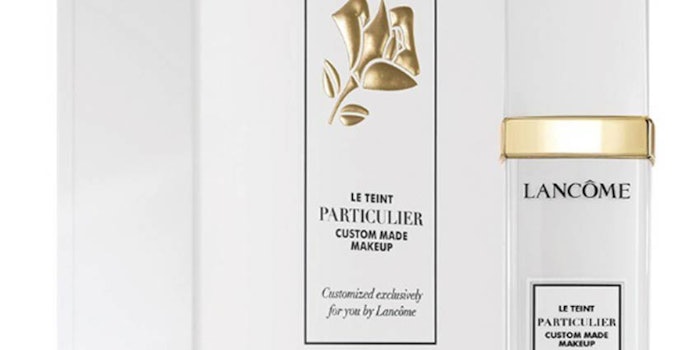 Lancôme is offering a bespoke makeup system, Le Teint Particulier Custom Made Makeup, in nine U.S. markets, exclusively at Nordstrom. The move is critical for the retailer, which had an overall sales decline in the latest financial period, even as beauty results climbed.
The process is simple: a Lancôme beauty adviser scans the customer's face to accurately determine their skin tone and then generates a customized foundation blend with a Complexion ID printed on the bottle for reference for refills.
The process costs $80 for 0.7 oz and promises personalized accuracy. The formula, which offers 24 hours of hydration, can allow for customized coverage: full, medium and sheer.
"The game-changing Le Teint Particulier formula is infused with micro-fill technology, the foundation feels weightless and contains high-impact pigments that glide on easily to flatter and hydrate all skin types," the company notes. "The long-wearing, breathable formula is oil-free, fragrance-free, safe for sensitive complexions and won't clog pores, leaving skin with a translucent radiance and a smooth, truly flawless natural glow."
Suriya Parksuwan, president of Lancôme USA, said, "We're thrilled to expand this personalized makeup innovation to additional markets across the country. Over the past few years, Lancôme has had great success in offering extensive shade selections to women of all skin tones. With the new customized foundation–developed with extensive research in skin tone emulation–Lancôme is offering custom matching for all clients. The result is the epitome of luxury and personal service: made-to-measure makeup."