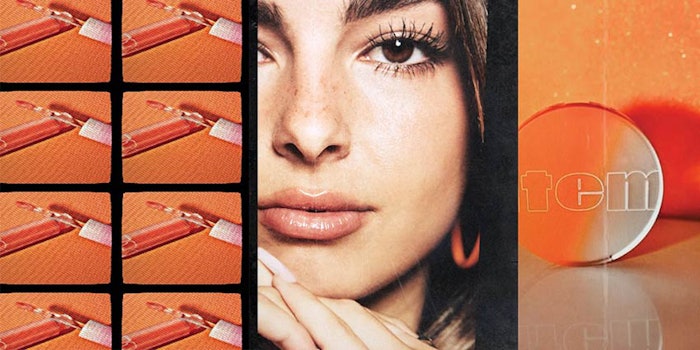 With the fate of Tik Tok in question due to U.S. national security concerns, Madeby Collective is launching Item Beauty in partnership with brand co-founder, chief innovation officer and Tik Tok star, Addison Rae (Tik Tok: 3.1 billion likes and 52 million followers; Instagram: 24 million followers; YouTube: 2.8 million subscribers; Twitter: 3 million followers). The launch follows Morphe's partnership with Tik Tok personalities the D'Amelio sisters.
The dermatologist-tested, clean beauty brand debuts August 11, features "fuss-free packaging" and is free of parabens, phthalates, talc and mineral oil. Item will be sampled via sister brand Ipsy's Glam Bag.
The range currently comprises:
Lash Snack lengthening mascara, $14 MSRP
Lid Glaze hydrating jelly eye shadow, $14 MSRP
Powder Hour brightening powder, $22 MSRP
Cheek Money bronzer duo, $16 MSRP
Lip Quip lip oil, $12 MSRP
Brow Chow brow definer, $14 MSRP
"I wanted to create a brand that supports individuality in a very real and authentic way," said Addison Rae. "Item approaches beauty the same way that I do. I want to be able to put something on my face that I can feel good about—clean products with ingredients that are good for my skin and enhance, not mask, my features. It's about embracing all your imperfections because they all play a part in what makes you truly unique."
"We are thrilled to be working alongside Addison," said Jennifer Gosselin, general manager of Madeby Collective. "She is an expert storyteller, an inspirational social media pioneer, and she has an uncanny ability to captivate and mobilize a community. As the brand's Co-Founder and Chief Innovation Officer, Addison is not just the face of Item, she is the driving creative force behind every product concept and campaign that we bring to market."