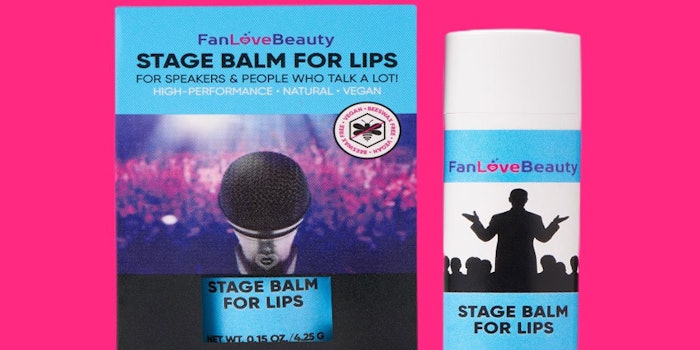 FanLoveBeauty vegan lip balm brand was created for those who inspire, educate or entertain our society and for those who aspire to be them, according to the company.
Further reading: Kao Research Takes Shape Around Lip Morphology vs. Age
The brand's first collection, The Stage Balm, is inspired by speakers and those "who talk a lot" as they both experience dry lips. The Stage Balm launches August 7 in celebration of National Speaker's Day.
Founder and cosmetic chemist Ginger King developed the 100% natural and vegan moisturizing lip balm infused with superfoods such as mango, avocado, flaxseed oil, as well as natural sea asparagus reportedly known to boost moisturization by up to 6,000%.
FanLoveBeauty is free from:
Petrolatum
Lanolin
Beeswax
King said, "Speakers' lips can feel dry, especially since their long speaking engagement schedule may not allow them to drink enough water. A moisturizing lip balm packed with healthy, good-for-you ingredients thus become essential especially lip balms could be ingested inadvertently."