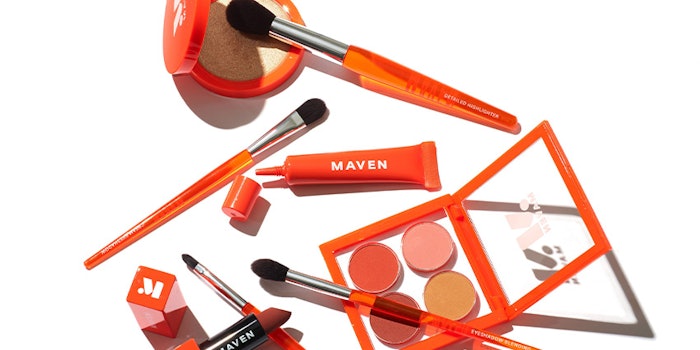 Fashion Nova has announced the launch of its newest makeup line, Maven Beauty, sold exclusively through its website. 
Related: Makeup by Mario Master Mattes Pro Lip Palette
This is the brand's first makeup collection, called Basic Beat, with products that are said to be long-lasting, high-pigmented and retouch friendly. The products are 100% vegan and cruelty free at prices ranging from $6-$19.
The collection includes:
Basic Beat Eyeshadow Palettes: A four pan eyeshadow palette, available in five different colors. The palettes can be used on the face and eyes.
Basic Beat Cream Eyeshadow: A cream eyeshadow infused with marine lavender extract and available in five shades. These eye shadows can be used as a base or alone.
Maven Highlighter: A clear gel highlighter with a pearlescent pigment for the face or body.
Maven Lipsticks: Includes five shades that have a demi-matte finish and are retouch friendly without feathering or bleeding.
Maven Waterproof Liquid Liner: Contains a calligraphy brush applicator, available in matte and shimmering pearl shades and can double as an eyeshadow.
Maven Pro Artistry Brushes: A collection of fine textured brushes in 30 different bristle shapes and sizes.
Maven Pro Lashes: Re reusable lashes that come in an assortment of styles.
Fashion Nova CEO and founder, Richard Saghian, said, "Fashion Nova has always and continues to be a brand that celebrates diversity, body positivity, and beauty in all forms. Our customers have been asking us to expand into beauty, so we spent the last year building our team, developing product, and testing different technology and ingredients from around the globe. Our commitment is to create high-quality, high-performance formulations, in a variety of shades and palettes, that are designed for and accessible to everyone. Our customers know that beauty today is boundless, and we created our products to be as well."