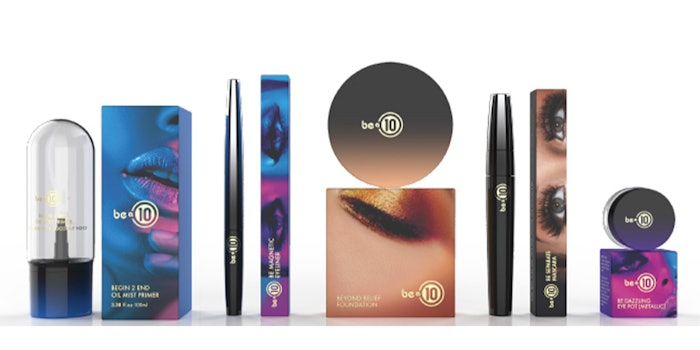 Carolyn Aronson, founder and CEO of It's A 10 Haircare, has launched her first cosmetics line, Be A 10.
Previously: [video] L'Oreal Paris' Signature Faces Virtual Makeup Collection
To kick off the launch, Be A 10 will be the official makeup sponsor of the upcoming Miss Teen USA and Miss USA 2020 pageants, taking place on November 7th and November 9th, 2020, respectively. It's A 10 Haircare will be the shows' official hair care sponsor.
Products in the collection include: 
Begin 2 End Primer: This aqueous oil mist primer is formulated to help prime, refresh, and set makeup, all while nourishing skin to be smooth.
Be Irresistible Lipstick: This moisturizing lipstick offers a sheer swipe of color with a deep hydrating formula.
Be Dazzling Eye Pot: A metallic eyeshadow features a weightless formula that doesn't crack or crease and ensures even coverage of glittery particles.
Be Bold Powder Highlights: Featuring a silky soft formula that glides on lightly and builds gently
Be Groomed Brow: A shaping brow pencil that outlines and fills in brows. 
Be Magnetic Eyeliner: This waterproof liquid liner includes fixerset, a makeup technology that is 0% water with a thinner wear than other liquid liners. It sets in 10 seconds and removes with oil-based cleaners and makeup removers.
Be Separate Mascara: This mascara strengthens, thicken, and defines upper lashes. The built-in precision lower lash wand gives you control over enhancing lower lashes and corner lashes. 
Be Cheeky Blush: The oil-control formula is silky and long-wearing. 
Belong To Me Lip Gloss: A no-bleed formula that can be worn on its own or applied over lipstick.