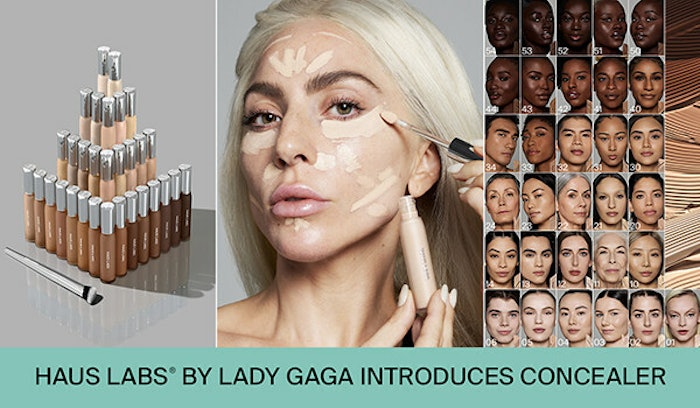 Haus Labs by Lady Gaga has built on the virality of its Triclone Skin Tech Foundation with the launch of the Triclone Skin Tech Concealer, which blurs and smooths blemishes, brightens the under eye area, conceals redness and dark spots, and, in line with skin-care-inspired makeup, depuffs the usage area after 14 days of application, per a two-week clinical study involving 37 people.
The concealer is available in 31 shades across six shade families and is exclusively available at every Sephora US and Canada store, as well as hauslabs.com. It will soon debut at Sephora UK. 
Key ingredients, according to the brand include more than 20 skin care ingredients, including a bioengineered caffeine alternative, brightening and hydrating niacinamide, fermented arnica to reduce redness and irritation, and a plumping and hydrating hyaluronic acid complex.
The arnica is a component of the brand's anti-aging/anti-inflammatory BioFerment 7 Complex, which is featured in the concealer and other Haus Labs launches. The complex also comprises fermented forms of licorice root, green tea, and shiunko, a traditional Chinese medicine compound of herbs. It also includes marine algae, squalane and tomato leaf extract.
The formulations' shades were tested in collaboration with Sarah Tanno, Haus Labs' global artistry director, as well as celebrity makeup artist Ernesto Casillas.
"I am so proud to share Triclone Skin Tech Concealer with the community," said brand founder Lady Gaga. "It took two years to develop and confirm that this product would deliver on all the claims we were looking to achieve, outside of what concealers should already do, which is to conceal, blur and brighten. What I personally love about this concealer is how it also de-puffs. The formulation includes BioTech Caffeine, a bio-engineered alternative that is significantly more effective than traditional caffeine. And as with all Haus Labs products, we ensured a wide range of skin tones, under tones and shades are represented. We shade-validated with industry experts on our concealer, as we did with Triclone Skin Tech Foundation."