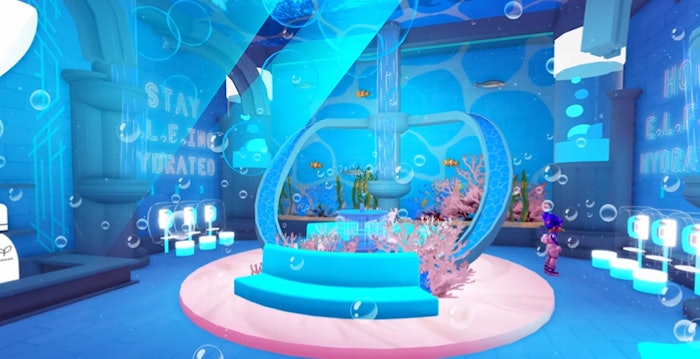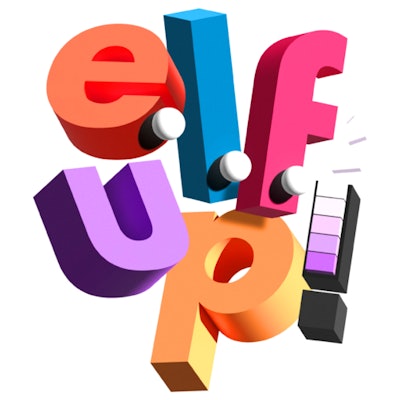 e.l.f. Cosmetics and e.l.f. Skin have launched their e.l.f. UP! "digital sandbox" on Roblox, addressing Gen Z's strong tendency toward entrepreneurship and the need for "creative, analytical thinking and coding."
e.l.f. UP! allows users to "create dream startups that represent places and causes they care most about," according to the brand, including elements such as gamified financial literacy and social awareness raising.
The e.l.f. UP! experience was built by metaverse developer Supersocial and features experiences inspired by e.l.f.'s hero products, including the Big Mood recording studio and karaoke bar, the Holy Hydration! underwater sea life charity and animal rescue, the Halo Glow crystal cave jewelry and art gallery, and the Power Grip extreme climbing gym and tech startup.
The design reportedly features visuals and immersive elements that are distinctive from the standard Roblox platform and features collectible non-playable characters.
e.l.f. will also be giving away more than 1 million user-generated content items, including, at launch, including accessories such as the Holy Hydration! Goldfish Pet or Big Mood Musical Wings.
e.l.f. UP! will eventually include a pet adoption center, new game mechanics, more areas inspired by new products and launches, and a multi-lingual rollout.
"Our community has been asking for us to be on Roblox," said Kory Marchisotto, CMO, e.l.f. Beauty. "It's part of our journey to disrupt norms, shape culture and connect communities through positivity, inclusivity and accessibility. We did it first on TikTok with e.l.f. Yeah, then on Twitch with e.l.f. You, and e.l.f. UP! on Roblox will be no different. This time we are able to create an experience where our community can follow their entrepreneurial dreams and empower the next generation of changemakers who flourish in these digital economies."
"In partnering with e.l.f., we are amplifying a game-changing vision: the e.l.f. UP! experience on Roblox isn't just another game; it's a virtual breeding ground for tomorrow's artists, activists and changemakers," said Yonatan Raz-Fridman, founder and CEO, Supersocial. "It combines social impact with community-driven creativity, setting the stage for a new kind of social entrepreneurship in the virtual world."
"Since e.l.f. entered into the gaming community, they have always led with purpose on making the space a better, safer and more uplifting place for all types of gamers, no matter their gender or background," said Brad Timmins, founder and CEO of eGEN, a gaming and esports agency. "This next chapter in the 'e.l.f.averse' will continue to be a magical world to inform, uplift, empower and support gamers and the next generation of entrepreneurs."