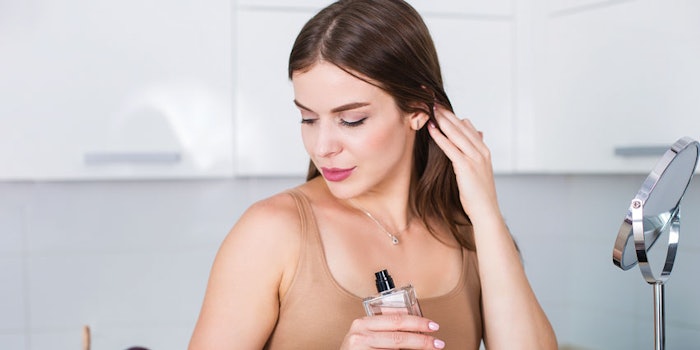 For one-third of U.S. women, a fragrance purchase is seen as a personal treat or a pick-me-up, with some purchasing fragrance as often as once a month, according to NPD Group's Scentimentsa suite of insights. At the same time, consumers are looking for variety and experimentation. It's no surprise, then, that NPD reported last summer that US sales of perfumes of less than 1 oz grew by 16% in the two years prior. Call it the "little luxury" effect.
Squared Designs
Quadpack Industries has released the Gemel pack, a 15 ml molded glass bottle with a PP cap that is small enough to fit in a purse.
"It reflects a growing trend of portable packs and smaller formats supporting the layering trend preferred by millennials," explains Isabelle de Maistre, fragrance category manager, Quadpack Industries. "Its [screw neck] can be easily taken apart for recycling and is available as a refill format. Its design allows it to stand upright or lay flat. And, perhaps most importantly, it represents a rich canvas for creative design. We applied a number of decoration techniques to it, from marble plating to digital printing, and developed different options for secondary packaging, from single cases to multi-product pouches in suede."
Arcade Beauty also offers luxurious mini bottles made of molded glass through its partnership with German glassmaker Heinz. Expanding from its range of cylindrical flacons, the new range includes both round and square-shaped dispensers, both available in 7.5 ml and 10 ml formats, and also both available as sprays and rollerballs.
Responsible Portability
Rollerball and travel spray sales in the United States rose 28% between 2015 and 2017, NPD has reported. Packaging firms are responding with new innovations for convenience, ease and on-the-go lifestyles.
For example, Quadpack's Geometric Wooden Purse Spray is a portable, refillable fragrance pack that won the 2017 WorldStar Packaging Award. Launched at the company's Technotraf wood factory, all of the facility's creations are certified by PEFC and FSC, using raw materials sourced from sustainably managed forests.
"This is great for brands with a natural or organic claim, as it amplifies the brand message through the packaging," says de Maistre.
Beyond the Bottle
As seen with recent examples from Kenzo, Chanel, Pinrose and Amkiri (see Page 30), more brands and suppliers going "beyond the bottle." For example, Texen's scent pen is an ideal on-the-go accessory. Made of polypropylene and clad in anodized aluminum, the scent pen's nylon stem is filled by dipping it into a scent bottle and absorbing the liquid (up to 0.2 g in just one minute). The pen can then be used twice per day for a week before needing a refill. Thierry Mugler has adopted the design for its Aura Mugler scent, released last year.
Tactile Considerations
According to a CEW trend presentation from Larissa Jensen, executive director, beauty industry analyst, NPD Group, the U.S. prestige fragrance market grew 6% for full-year 2017. However, artisanal fragrances boomed 14%, with single-note artisanal fragrances rising 13%. As niche and artisanal brands continue to gain market share, the look and feel of a fragrance bottle in hand is more important than ever, speaking volumes about the brand and what's inside.
For Carven's new Dans ma bulle fragrance, Texen recently created a bubble cap made of injected DuPont Surlyn. Showcasing relief lettering to spell out the brand name, as well as its crystal finish, the one-of-a-kind cap truly makes its mark.
Working from its Technotraf plant, Quadpack provided a six-part bespoke wooden cap to adorn a 100 ml glass bottle for the Aeria range of scents from La Cristalleries des parfums, a niche French fragrance brand.
"Whatever we provide, we aim to offer solutions that are inspiring, elegant and sophisticated," concludes de Maistres.
Words to the wise for any brand serious about taking their fragrance business to the next level.
Footnotes:
awww.npd.com/wps/portal/npd/us/news/videos/the-value-of-scentiments/
Lisa Doyle was formerly the associate editor of Global Cosmetic Industry and is a freelance writer in the Chicago area. Her work has also appeared in Skin Inc., Salon Today, Modern Salon, Master Barber and Writer's Digest.