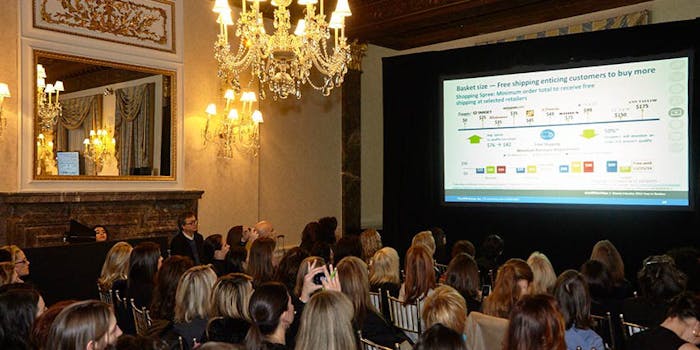 "In 2015 we have seen a complete shift," said NPD's Karen Grant during CEW's Global Trend Reports event, The NPD Group's 2015 Year in Review & Trend Forecast. "If you compare 2015 to 2013, the amount of dollars being brought in additional dollars in the fragrance [in 2015] is more than triple the amount being brought in back in 2013 in additional dollars."
Read part one of this series: Consumer Spending and Beauty's Biggest Retail Threat
She added, "If you look at skin care, the additional dollars being brought in [in 2015] is less than half what we were bringing in 2013. In fact, for the first time in 2015 fragrance actually brought in more additional dollars into its category than skin care brought into its category."
The younger fragrance user (16-24) is using more fragrance, increasing their usage at about 40%.
Grant added that hair care brought in more additional dollars than the facial skin care segment. (About 75% of additional dollars brought into the beauty category came from makeup. Contour makeup grew seven-fold, while brow sales have risen for the last three years, with 42% growth in Canada, in addition to strong results in the United States, Italy and Spain.
Read part two of this series here: Why Prestige Will Lead Beauty Growth in the Next Few Years 
With fragrance dollars growing by 4% and skin care dollars growing by 3%, the logical question is: what's going on?
Skin Care's Changing Dynamics
First, skin care is facing challenges, said Grant: "All of the growth that came into the skin care category was driven by what was going on online," a major shift from brick-and-mortar.
In prestige skin care, the natural and clinical categories grew 10%, outpacing the total facial skin care market, which grew 1%.
NDP consumer research has revealed that the younger fragrance user (16-24) is using more fragrance, increasing their usage at about 40%, said Grant, but that consumer is, overall, using fewer skin care products in the (18-24 age group). Conversely, there has been no drop in skin care use in the 35-and-above category.
Younger consumers are most likely to seek a doctor's endorsement or natural/organic ingredients when selecting facial skin care products. Consumers 24-34 years old like to try new things.
Meanwhile, said Grant, "The lines continue to blur between makeup and skin care as consumers look for immediate results through makeup and rediscover smaller primary care categories in skin care."
Fragrance is Making a Statement
About 60% of younger consumers seek out statement-making fragrances, Grant explained.
"Where we saw some of the strongest growth in the fragrance market was flankers," Grant said, generating 16% of total of fragrance sales and 48% of additional dollars in the category.
"The familiarity of classics [is] coming back for the younger consumer," Grant continued.
"The beauty industry is in a state of renewal and flux," she said, "and what's driving the industry today has changed." This includes gender-neutral scents, as seen in the Pantone-inspired fragrance released several months ago.
While fine fragrance sales are the core of the category, Grant added that home ancillary sales are rising.