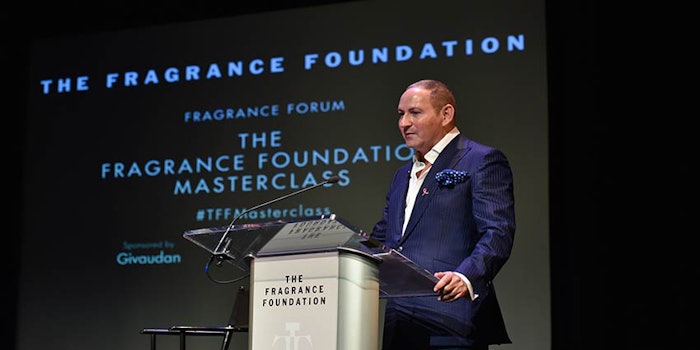 "The answer is always in the room," said John Demsey, executive group president at Estée Lauder, during a recent Masterclass event in New York sponsored by the Fragrance Foundation.
Subbing for an absent Leonard Lauder, Demsey offered a long-form talk combining Lauder's insights and his own, providing a unique insight into beauty industry leadership.
Demsey is a "relentless" shopper who keeps tabs on how consumers view the world.
Demsey's career began humbly, working in retail at Macy's before rising into the ranks of the beauty world. Today, he oversees brands such as Tom Ford, Smashbox, MAC Cosmetics, Bobbi Brown, Rodin and GlamGlow, among many others.
Transformation from Within
The issue is particularly critical for the fine fragrance business, which was dominated by mega launches in the 1980s that led to blockbuster brands, wider distribution and countless flankers. If scents didn't hit big right away, they were marked down and/or vanished—there was less and less time for brands to build an audience.
Fragrance brands became reactionary and safe in response, said Demsey. And so, over time, the perfume business transformed into a commoditized masstige space where more money was being spent on gift with purchase and advertising than on the fragrance itself. As Demsey put it, promotion trumped product.
By controlling the one-on-one digital experience, brands can make niche more "touchable."
At the same time, retail outlets lost some of their unique personalities and customized service; these qualities migrated to the niche business. As consumers lost faith in fragrance, bath and body players stepped in to make scent more accessible and profitable.
In later years, Estée Lauder transformed itself with two key brands: Aerin and Tom Ford. Both brand founders were already affiliated with the company; by leveraging Aerin Lauder and Tom Ford, the company was able to introduce a major shift in its brand mix. 
Ford, in particular, provided the roadmap for his fragrances, which were inspired by classic vintage scents from Caron and Guerlain. The scents for the standalone brand were not an overnight hit, but 10 years later it stands as a major force in what is a highly challenged fine fragrance market.
Niche is the New Normal
How did Tom Ford's scents catch on? With greater investment in the fragrance and by elevating accords such as neroli. By creating fragrances in the same way fashion designers create a new line—going back into the archives for inspiration—Tom Ford was able to establish a clear identity.
As consumers began to turn toward more niche and luxury scents, Demsey and Estée Lauder pursued a fragrance strategy that led to the acquisition of brands such as Jo Malone, Le Labo, Frederic Malle and By Kilian.
Being a perfectionist is the only way to do business.
Today, Jo Malone is Estée Lauder's fastest-growing brand and taught Demsey that "if you create a fragrance destination, people will come to you."
Overall, artisanal fragrance is growing well, said Demsey, because these brands embody dramatic creativity and a personal vision and olfactive direction. Amazing new brands and concepts are rising up, featuring distinctive personalities and stories, unique experiences and images. This is especially critical because millennials want to know the backstory and values of brands.
Beauty players that fail to deliver these things will fail, Demsey said, because in a commoditized market the lowest price wins.
11 Lessons from Two Accomplished Beauty Careers
Demsey then shared a mix of insights from Leonard Lauder and himself:
1. Keep accountants and lawyers out of the creative process. Brands are successful because of creativity, strong brand stewardship and quality.
2. Experience matters. Nothing matters more than experience, said Demsey, because chance favors the prepared mind.
3. Choose your lane. Companies and brands that attempt to be too many things risk spending too much money, while losing focus and identity, said Demsey. As a result, it is critical to focus on something, have a defined point of view and then execute it well. In some cases, as with the namesake founder of Estée Lauder, focus can allow a small player to keep a low profile and grow without attracting unwanted attention from larger competitors. Today, most of us might call this "disruption."
"If you can't see the future, you can't get there."
4. Create your own competitor. In the late 1960s, Evelyn Lauder brought a ground-breaking skin care article to the attention of her mother-in-law, Estée Lauder. Recognizing a need for skin care routines that were dermatologist-tested, the company set about creating a new brand, Clinique. Demsey encouraged the audience to write down what they would do to compete with themselves in order to better understand their vulnerabilities and the opportunities they offer.
5. Goals are everything. Demsey encouraged the audience to "fantasize about success." By having aspirations and setting goals, success is possible, he said. He added: "If you can't see the future, you can't get there."
6. Stand for something. According to Leonard Lauder, brands and products should take risks, have quality, class and excitement, and must stand for something.
7. Be a quality fanatic. As Leonard Lauder noted, quality is crucial, and becomes all the more important in an increasingly niche-driven business. As Demsey put it, being a perfectionist is the only way to do business.
8. And a control freak. In skin care and cosmetics, Demsey said he'd learned that the more a brand can control the consumer experience, the better. At the same time, by controlling the one-on-one digital experience, brands can make niche more "touchable."
9. And a customer. Aside from running top brands, Demsey is a "relentless" shopper who keeps tabs on how consumers view the world, as well as how influencers impact behaviors. This type of mindset can be informative when assessing acquisition targets and other business opportunities.
10. You don't know what you're talking about. Demsey noted that as much research and experience as anyone may have, the consumer is always changing—good marketers always keep this in mind.
11. Early doesn't have to be a bad thing. Everyone has had failures, Demsey noted, whether by launching something too early or too late. He added that classics like Viktor & Rolf Flowerbomb and Angel didn't truly take off for several years. By launching collections, fragrance brands can overcome some of these issues.