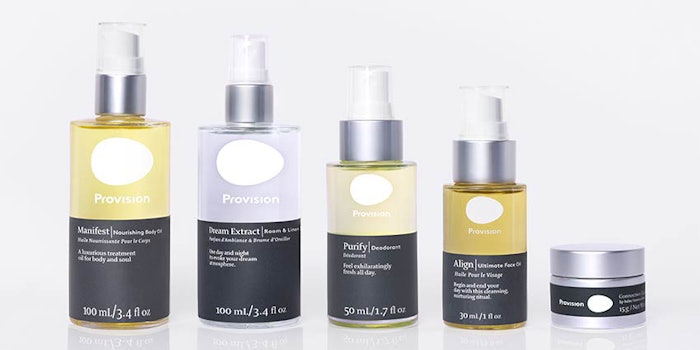 "My dream for Provision was to create a product line that offers the ultimate experience—scents that you can't get enough of, elegant bases with sustainable, natural, and innovative ingredients that deliver exactly what you need," said founder Sherri Sebastian. "If my products help people to take a moment for themselves each day, my dream will be realized." 
The line, designed with botanical ingredients includes:
Dream Extract (100 ml/3.4 fl oz;

SRP

: $55), a blend of organic,

eco

-certified

clary

sage and Italian

bergamot

, with musk and amber, and Australian-sourced Indian sandalwood. The extract can be misted onto the user's sheets and pillows before bed "to evoke a sense of peace and deep relaxation," or spritzed onto one's clothes during the day "to evoke your dream atmosphere."
Align Face Oil (30 ml/1.0 fl oz;

SRP

: $90), which contains

amla

oil (Indian gooseberry), anti-inflammatory and antibacterial Indian sandalwood, vitamin E-rich avocado oil and antioxidant sweet almond oil.
Connection Lip Rescue (15 g/0.5 oz;

SRP

: $55), an orange flower-scented balm containing avocado,

shea

butter, grape seed, sunflower seed, beeswax and rose wax.
Manifest Body Oil (100 ml/3.4 fl oz;

SRP

: $75), which comprises

shea

butter extract, avocado oil, almond oil and

amla

oil, and is scented by

labdanum

absolute, vanilla absolute and patchouli.
Purify Deodorant (50 ml/1.7 fl oz; $35) scented with

eco

-certified (

NPA

) French

clary

sage, Madagascan

vetiver

and

oakmoss

, and powered by a natural enzyme-containing

DeoPlex

from

Carrubba

.

Las

Flores

eau

de

parfum

(45

mL

/1.5 fl oz.;

SRP

: $125 ), which contains orange flower absolute,

elemi

, poplar bud and a "Canyon Air Accord."
Resonance

eau

de

parfum

(45

mL

/1.5 fl oz.;

SRP

: $125), featuring cork absolute, Spanish

labdanum

,

olibanum

and vanilla absolute.

Maitri

eau

de

parfum

(45

mL

/1.5 fl oz.;

SRP

: $125), which contains organic,

eco

-certified Madagascan

vetiver

, ginger absolute, "Mandarin Musk Accord,"

oakmoss

and Italian

bergamot

.