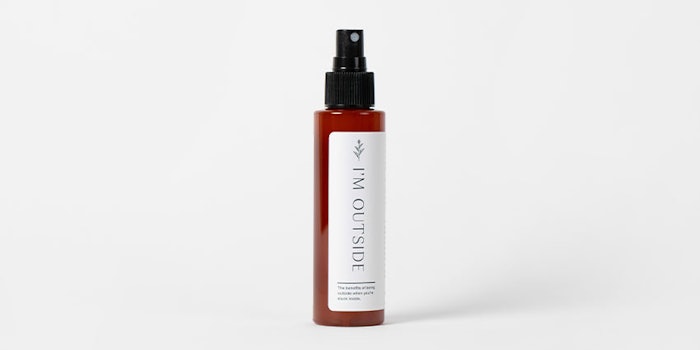 I'm Outside has launched its first product, I'm Outside Forest Bathing in a Bottle, which sold out just five days after launch. According to the brand, the face and body mist gives users a mood, immunity and microbiome boost similar to what they would get from being outdoors.
The mist uses what it claims is the immune-boosting fragrance of trees, the benefits of vitamin D3 from the sun, and the protection of fulvic acid and microalgae from the soil to deliver the benefits of being outdoors, or forest bathing, in a bottle.
I'm Outside is available direct to consumer through im-outside.com and through select boutique retail partnerships.
Ingredients: Purified Water (Aqua), Aloe Barbadensis Miller (Aloe Vera), Cholecalciferol (Vitamin D), Fulvic Acid, Humic Acid, Caprylic/Capric Triglyceride (and) Pavlova Lutheri Extract (Microalgae), Pinus Sylvestris (Pine) Oil, Citrus Sinensis (Orange Sweet) Oil, Cupressus Sempervirens (Cypress) Oil, Picea Abies (Spruce) Oil, Abies Sibirica (Fir Needle) Oil, Rosmarinus Officinalis (Rosemary) Oil, Mentha Arvensis (Mint) Oil, Phenoxyethanol (and) Caprylyl Glycol (and) Ethylhexylglycerin (and) Hexylene Glycol (Preservative).