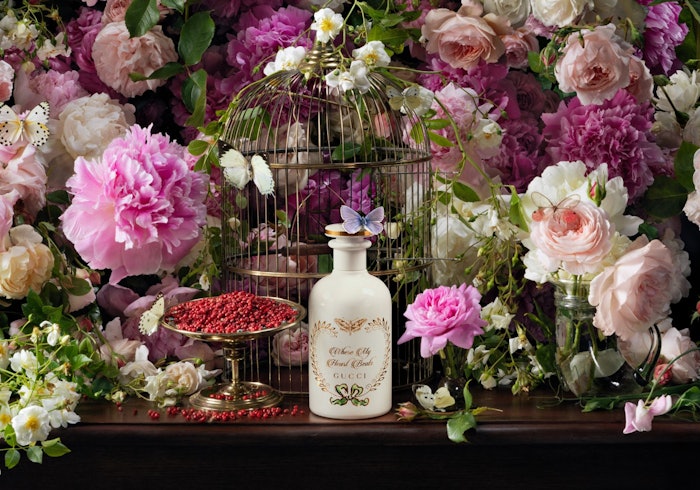 Coty Inc.'s new Gucci Eau de Parfum, Where My Heart Beats, is reportedly the first globally distributed scent manufactured using CarbonSmart alcohol from 100% captured and recycled carbon emissions. The alcohol is derived from Coty's partner LanzaTech.
Previously, Coty introduced carbon-captured alcohol into its fragrances by blending it with traditional alcohol. Conversely, Where My Heart Beats Eau de Parfum uses 100% carbon-captured alcohol.
The captured carbon alcohol development process reportedly uses less water and reduces the need for agricultural land compared to traditional methods of alcohol production.
In February 2022, Coty Inc. announced it had started production of the world's first globally distributed fragrances made using carbon-captured ethanol. Coty announced its sustainable fragrance technology ambitions with LanzaTech back in March 2021.
"Coty is the first company to introduce carbon-captured alcohol into fine fragrances for global distribution," said Coty chief scientific and sustainability officer, Shimei Fan, Ph.D. "This is an inspiring example for sustainability being the ultimate driver of innovation. Beyond the science, there is something magical in upcycling industrial emissions into alcohol pure enough for use in fine fragrances. That is why Gucci's The Alchemist's Garden Where My Heart Beats Eau de Parfum was the natural choice for our first fragrance manufactured using 100% carbon-captured alcohol."