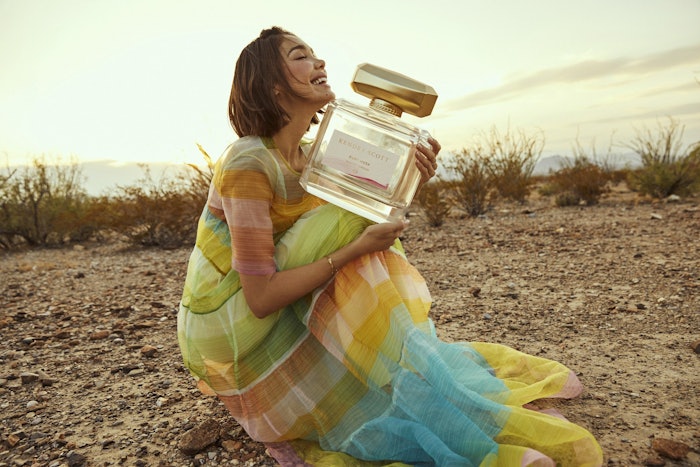 Kendra Scott has debuted its Fragrance collection, which features three scents: Ruby Musk, Amber Aura and Jade Blossom.
Ruby Musk: Opens with deep notes of  bergamot, pink pepper and rose. Base notes of amber, patchouli and coconut musk complete the experience.
Amber Aura: A medley of rich cedarwood notes, warm florals and scintillating musk. Top notes of amber and cedarwood with base notes of ambrette, calming vanilla and praline create a grounding, captivating scent.
Jade Blossom: Notes of jasmine and green flower. The blend finds balance with an undercurrent of tuberose and meditative, silky base notes of sandalwood and vetiver.
The intentionally crafted bottles translate the brand's emblematic Danielle and Davie silhouettes into fragrance vessels to bring Kendra Scott's design staples into the personal fragrance space.
The full-size bottle features the Danielle shape and a travel-sized version features the recognizable, geometric Davie shape.
Founder, chief creative officer and executive chairwoman Kendra Scott, said, "Fragrance has always played a special role in my life—it's purely transformative. Memorable scents have the power to define a mood, bring back a fond memory, and evoke emotion. I always had a vision to add fragrance to our collection. Like jewelry, fragrance is personal, distinct, and a unique accessory to the wearer. In developing this collection of scents, we aim to bring more joy to the Kendra Scott customer, and make a lasting impression that will accompany her through every chapter of her life."