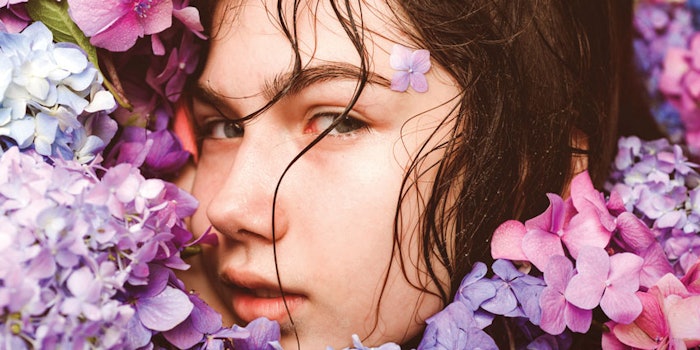 UPDATE: Read Part 2 here.
Now, more than ever, safety, sustainability and efficacy are driving consumers' ingredient demands. For instance, a report from HatchBeauty Brands reported that online beauty ingredient-related searches for January-March 2020 favored health- and immunity-centric materials, including vitamin C, echinacea and elderberry.
Vitamin C searches have reportedly risen 101% since 2019—totaling 306,051 weekly searches in the first quarter of 2020. Echinacea searches increased by 69% in online searches from 2019 to 2020 and saw an average of 144,696 weekly online searches in the first quarter of 2020. Finally, elderberry drew an average of 10,458 searches weekly in the first quarter, up 124% compared to 2019.
Looking forward, HatchBeauty Brands outlined a range of wellness-oriented materials brands may be incorporating into well-beauty offerings. These include immunity-boosting materials such as L-glutamine and cordyceps, as well as anti-inflammatory ingredients such as MSM, krill oil and pyrroloquinoline quinone (PQQ).
Focus on Necessity
According to a report from Kline, ingredients such as antimicrobials, surfactants, emollients and rheology control agents have fared relatively well during COVID-19 due to their "necessary" status. The group predicts that these categories may even grow at a faster rate when the pandemic is over, due to changes in consumer habits and interest in disease prevention.
These same trends may negatively impact demand for emulsifiers, conditioning polymers, UV absorbers, hair fixative polymers and color cosmetic ingredients, e.g., pigments. This is due to a fall in sales of premium skin and hair care, as well as the ongoing weakness in the color cosmetic sector.
Beauty from Within
Ingestible beauty is a category that touches on every major trend in beauty. Ingredient innovation for these products therefore continues apace.
For instance, Lubrizol Life Science has launched Curcushine microcapsules, bioavailable microencapsulated curcumin that reportedly aids in anti-aging, UV protection and hair care. Curcumin has reportedly been shown to delay skin aging by protecting the skin's structures and proteins, including collagen and elastin, from oxidative and inflammatory damage.
The antioxidant properties of curcumin can reduce ROS in cells and eliminate the effects of advanced glycation end-products (AGEs) on the divergent regulation of gene expression of receptors.
The gluten-free, vegan, plant-based, and kosher- and halal-certified delivery system embeds and protects the curcumin, transforming it into a bioavailable material. The increased bioavailability can be attributed to the solubility in water due to the small dimension of the particles, a strong contrast to free curcumin extract. The high solubility characteristic thereby allows easy incorporation of the product into varieties of nutricosmetics and beauty drinks.
In an in vitro study from Lubrizol showing the ROS reduction effect of Curcushine, the microcapsules were shown to have significant protection from oxidative stress on HDFa cell structures. Curcushine was also reportedly shown to exhibit better antioxidant performance compared to other extracts, thus preventing aging.
In an in vitro study, Curcumin was shown to protect from UVA-induced glycation by decreasing AGEs by as much as 63.7%, compared to the untreated control. In another in vitro test with the company, Curcushine's bioavailability was much higher than the control, lasting eight hours after intake. The microcapsules displayed a pharmaco-kinetic profile of slow release of curcumin compared to the quick absorption, metabolization and removal of free curcumin.
Meanwhile, Ajinomoto Health & Nutrition has launched Indigo Marine Collagen protein powder, which helps diminish the signs of aging while revitalizing skin, hair, nails and bones.
Indigo Marine Collagen is ethically sourced from wild-caught fish in the North Atlantic Ocean (thus preventing direct exposure to antibiotics and hormones) and manufactured in the United States, creating a lower impact on the environment, per the supplier. The ingredient technology reportedly digests rapidly into the body, is Keto- and Paleo-friendly, kosher-certified, and free of additives, fillers, gluten, dairy and soy.
Finally, Green Acre has launched Tomesoral, a proprietary heirloom white tomato powder that is rich in phytoene and phytofluene with lutein and zeaxanthin to boost the body's glutathione. Reportedly, Tomesoral was shown to act as a catalyst to glutathione production by stimulating the expression of glutathione reductase. According to Green Acre, the enhanced production provides multiple skin and health benefits.
In addition, this colorless carotenoid reportedly absorbs light in the UV range. Clinical studies of tomato-based ingestible products rich in phytoene and phytofluene reportedly displayed protection against sun exposure, reduced UV-induced erythema and provided protection against oxidation.
For the full article, check out Global Cosmetic Industry's October 2020 digital magazine.