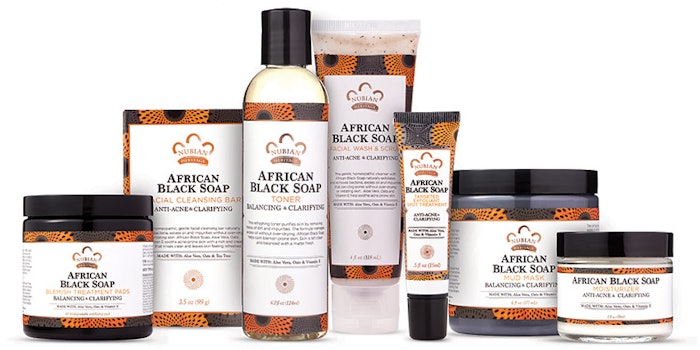 Designed with unique textile patterns, Nubian Heritage has updated its body care collections with packaging that pays homage to the diversity of healing traditions and cultures that are represented in the Nubian Heritage family of products.
The beauty company offers an array of bath and body care products, but its mainstay is African Black Soap, which the company debuted in the U.S. 25 years ago.  
The African Black Soap Facial Care Collection features a pattern that complements the ingredients' detoxifying properties, symbolizes purity and commemorates the strong community identity textiles have in Africa, with each community having its own design.
The Coconut and Papaya collection's pattern highlights the ingredients' renewing properties. The package symbolizes the sun and is typical of prints and textiles from the Caribbean, which feature elaborate geometric designs made in a reverse appliqué process.
The Abyssinian Oil and Chia Seed collection's packaging complements the ingredients' revitalizing properties, and the package pattern symbolizes faith. It honors the rich textile history of Ethiopia.