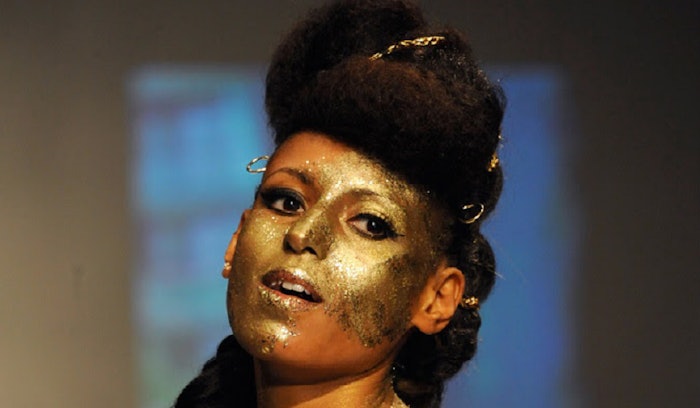 Textured hair graced New York Fashion Week (NYFW), complete with numerous texture and style varieties, including curly coils, braids and loose waves, revealing the hottest looks and on-trend ingredients. Texture On The Runway connected beauty influencers with brands and retailers in the ever-expanding textured hair category. The event was hosted by NaturallyCurly.com and powered by international specialty retailer, Sally Beauty.
"At Texture On The Runway, it's all about the textured hair," said NaturallyCurly.com co-founder Michelle Breyer.
The naturally curly haired Breyer has been focusing on empowering and connecting the consumer voice with brands and retailers in the textured hair category. Alongside professional hairstylist Monica Stevens of MoKnowsHair, she hosted the event, at which featured more than 700 influencers, media members and VIPs filled the venue to see top texture brands reveal their latest looks.
We know that beauty is not a one-size-its-all approach  - Karonda Cook, Sally Beauty. 
Hot Ingredients: Castor Oil, 

Argan

 and More 
"We know that beauty is not a one-size-its-all approach and [we] believe in beauty for all," said Karonda Cook, director of merchandising, Sally Beauty.  
Krystyn Croney, a Sally Beauty representative from Hackensack, New Jersey, told Global Cosmetic Industry that products containing many natural-oriented ingredients continue to be in demand, such as castor oil (including Jamaican black castor oil varieties), olive oil and coconut oil. 
On a similar note, Nikki Chung, senior director of brand and marketing at Sundial Brands and an authority on the textured hair style market, also mentioned the ingredient story that is coming into play with products suited for textured hair. Chung said products containing Jamaican black castor oil "quickly rose to become our best-selling" on the market. Further, she said as braids continue to be in style, as well as reimagining twists on classic styles like the bouffant. 
Teneya Gholston, director of marketing for Revlon, said that with the popular trends being braids and wave detail, "products that smooth the hair right now are necessary." This includes Creme of Nature's Perfect Edges styling line, for example. And as far as ingredients are concerned, "argan oil is still a very popular ingredient," she said. Products containing coconut oil, shea butter and mango also continue to be in high demand, according to Gholston. 
Texture Style Walks the Runway
From natural styles and cascading waves to wild ringlets and tribal braids, Cantu, Carol's Daughter, Creme of Nature, Curlformers, Mielle Organics and SheaMoisture headlined the runway show, featuring their unique vision for textured hair.
Cantu 
Cantu's theme, Road Ready Spring 2018 Collection, took the audience on a girls' trip, a bachelor party and family vacation. The brand showed versatile braids and natural looks on style notables, along with YouTube and social media influencers like the McClure twins.
Off the runway, social media influencers told Global Cosmetic Industry that Cantu's new men's line can be used on a variety of textured styles from side-fade looks and more. 
Carol's Daughter 
The Carol's Daughter Education team, along with Ty Hunter's wardrobe styling team, helped to create looks that were inspired by key events and pervasive themes throughout Brooklyn: Street Style, Summer Festivals and Caribbean Culture.
The group used Carol's Daughter Pracaxi Nectar collection to create looks ranging from from braids to natural styles and curly locks. The wardrobe pieces selected by Ty Hunter and his team were all from local Brooklyn designers.
Creme of Nature 
Creme of Nature's inspiration was all about encouraging women to be bold and fierce, while embracing their textured, natural hair including curls, coils, kinks and waves. Its showcase was an ode to the bright lights and big city life.
The brand brought to life Creme of Nature's "I Am Supernatural" natural ethos through clothing and handmade shoes from De La Cruz New York and cutting-edge hairstyles by celebrity hairstylist Pekela Riley.
Curlformers
Curlformers offered bohemian chic looks on a variety of hair types and textures ranging from wavy to tight curls. The brand showed how its Curlformers curlers allow women to embrace their texture and add definition, volume and length with a flexible tool that uses no heat.
Mielle Organics 
Mielle Organics showed off its new Pomegranate & Honey Collection: a line of products formulated to give thick, curly hair definition and intense moisture and hydration. Its "Cranes in the Sky" theme was inspired by the hairstyles of singer Solange Knowles.
The brand took a creative approach to embracing natural hair in different forms, including braids and pompadours, with an artistic element. It sent models down the runway literally dripped in gold body paint to complement the beautiful natural styles created with new Pomegranate & Honey Collection, which will be available exclusively at Sally Beauty.
Shea Moisture 
Although hairstyles may come and go, braids have consistently remained present across centuries, continents and genders, SheaMoisture showed. For Texture On The Runway, the brand unleashed the Braid Revv-olution: avant-garde, runway-worthy braided hairstyles, ranging from editorial and couture to more conventional, to elevate SheaMoisture's core community in the beauty and fashion space.
Supporting brand partners included: Aphogee, Ardell Beauty, Jamaican Mango & Lime, Silk Elements and Proclaim.