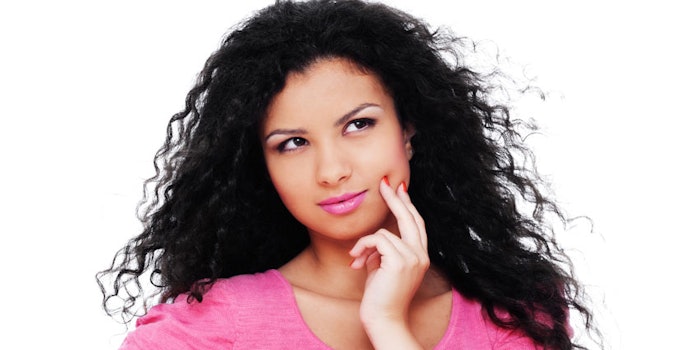 Look in the cabinet of any curly haired woman and the odds are you'll find dozens of products—cleansing conditioners, deep conditioners, leave-in conditioners, styling puddings, styling gels, curl creams, co-washes, clarifying cleansers and moisturizing shampoos. Even if her shelves are filled to the brim, she's probably still on the lookout for her next "Holy Grail" product.
Diane Mary Montalto, who has wavy hair, said, "I'm scared to count how many products I have; it may be close to triple digits."
A Big Hair Care Spend
The textured-hair consumer spends an average $82 on hair care products over a three month period, while straight-haired consumers average $40 during that same period, according to TextureMedia LLC's TextureTrends '17, which provides the most compelling proof yet that texture—curls, coils and waves—is one of the most dynamic, fastest-growing, most profitable segments in the hair-care industry.
Two decades ago, few products existed for textured hair, even though more than 60% of the population has wavy, curly or coiled hair. TextureMedia's NaturallyCurly was founded in 1998, providing textured hair consumers with education and styling tips, salon listings, and product reviews and shopping opportunities, all sorted by texture type rather than ethnicity. Since then, the number of products on the market has grown exponentially, and many brands have launched on NaturallyCurly because of its ability to reach this diversity of consumers. Today, the NaturallyCurly community has a social reach of 26 million a month, reflecting its diversity.
Heavy Product Users
"I am a product junkie mostly out of necessity," said MacKenzie Hunter, who has a bathroom full of products for her tight curls. "Considering how different seasons affect my hair, I use different products. I usually keep a lookout for sales of products I know have good reviews for my hair type. I use up to five a day usually."
Angeliz Rivera Melendez, who has struggled with her tight curls since she was a child, said a video on NaturallyCurly inspired her to head to her local beauty supply store in search of products to cope with her dry, frizzy, damaged hair.
"I just stared at all those hair products without knowing what to buy," Rivera Melendez recalled.
"At this time, I might have over 70 different products...It is quite overwhelming to stand in front of so many products cooking up my next 'cocktail.'"
Since that day, she regularly scours reviews and purchases new hair products every two to four weeks—"with every paycheck, faithfully." In one year alone, Rivera Melendez tried products by SheaMoisture, Cantu, Africa's Best, Renpure, Jessicurl, Miss Jessie's, Aunt Jackie's DevaCurl, As I Am, O'goyi, Kinky Curly, CHS Curl Keeper, Sedal, Carol's Daughter, Aussie, Honey Baby, Creme of Nature, Suave, Tresemme, Dove and Palmer's.
"At this time, I might have over 70 different products," she said. "It is quite overwhelming to stand in front of so many products cooking up my next 'cocktail.' I promised myself and my sister I would abstain from buying more products until I finished what I have. But then I thought, 'How can I recommend what I haven't tried?'"
As the appetite for these products soars, this trend shows no signs of slowing down. For brands and retailers in this category, it is essential to stay abreast of the latest consumer trends.
The Textured Hair Consumer: Data Insights
According to data collected in TextureTrends* 2017:
91% of textured-hair women continue to look for products, even if they've found their "Holy Grail" product.
Dryness, frizz and styling options are the top three concerns for wavy and curly women, while dryness, hair growth and detangling continue to be top concerns for coily women.
69% of women with textured hair have worn their hair straight in the past three months.
73% of those with wavy hair have worn their hair straight in the past three months, more than any other textured hair consumer.
67% of curly haired girls have straightened their hair in the past three months.
64% of coily haired women have worn their hair straight in the past three months. 
25% percent of all textured hair women have worn a protective style in the past three months to contain and defend their length and ends; particularly: 

64% wore braids, twists and faux locs.
32% wore wigs.
52% did their own protective styles.

24% of women with textured hair don't go to a salon to have their hair done.
31% of women with textured hair visit a salon at least once every few months, vs. 44% of women with naturally or chemically straight/relaxed hair. The tighter the texture, the less likely she is to go to a salon more than a few times a year.

42% of wavy women go to a salon.
31% of curly women go to a salon.
22% of coily consumers go to a salon.

Reviews, ingredients and price are the most important attributes of a new product for the textured hair consumer, with reviews trending up by eight percentage points over last year.
Retail Controversy
In 2016, Sephora launched a major initiative, It's a Curl Thing, and brought in a number of curl-specific brands to attract the textured hair consumer.
Other large retailers, including Walmart and Target, have sections devoted to texture. With dozens of new brands and products catered specifically for curly hair launch each year, every major hair care brand now offers products for textured hair, including Garnier, Tresemme and Pantene.
The breakneck rate of change taking place in the texture category, and how intricately texture is intertwined with ethnicity, has produced its share of controversy. The question of where the products should be stocked, how and to whom they should be marketed to, and even who should own the companies that manufacture these products have all been topics of debate.
"No matter what ethnicity, or gender, we all want to take care of our hair in some capacity ... I would rather focus on uniting consumers than dividing them."
A growing number of retailers and brands—including heritage ethnic brands—are striving to attract a more diverse customer base. For some, this desire to appeal to a range of ethnicities and texture types has sparked a negative reaction from their traditional customer base.
SheaMoisture's award-winning #BreakTheWalls campaign tackled the question of whether hair care products for women of color should be "segregated" in the ethnic aisle and promoted the idea of the "New General Market"—one focused on inclusion and diversity.
Some industry insiders bristled at SheaMoisture's bold statement, contending that dramatic changes could endanger many of the ethnic heritage brands originally created for black women by reducing—or even eliminating—the space now dedicated to that category.
According to the results of TextureMedia's Hair Care Aisle Study** found that textured-hair consumers would prefer to shop for their hair care products and brands in a section organized by hair texture or concern rather than by ethnicity. Overall, only 4% of textured-hair consumers believe hair care products should be organized by ethnicity.
"No matter what ethnicity, or gender, we all want to take care of our hair in some capacity ... I would rather focus on uniting consumers than dividing them," said one respondent.
*TextureTrends '17 draws from more than 3,000 consumers of all ethnicities and texture types, including consumers with naturally straight hair and those who use chemical relaxers. It explores many areas of purchasing behavior and product usage, including awareness, spend, retail preferences and brand loyalty. TextureTrends '17 also includes several new categories about the textured hair consumer, including hair care regimens, details about protective styling and caring for children with textured hair.
Rather than coming out as an annual report, this year's TextureTrends report now surveys consumers twice a year. Instead of a static report, TextureTrends is now presented as a web-based analysis tool that provides on-demand access to data on key demographics, shopping habits, behaviors and needs of textured-hair consumers for real-time decision making. The user now has access to advanced tools that enable them to customize the data on demand to create and export tables and charts for presentations.
Last year, TextureTrends took the question directly to the consumer. It conducted a survey of more than 700 curly, coily and wavy respondents to determine how they want to shop for their hair care products, and whether it differs by ethnicity.
**The Hair Care Aisle Study is a part of TextureTrends' ongoing expansion, providing a growing tool kit of research offerings for the industry. In addition to the TextureTrends Analysis Tool, the TextureTrends Insights Suite includes syndicated and custom research.
Author Bio:
Michelle Breyer ([email protected]) is the co-founder of content and ecommerce platform NaturallyCurly.com and TextureMedia (https://corp.naturallycurly.com/). By engaging beauty enthusiasts through original content, branded entertainment, social media, product reviews and commerce, TextureMedia influences up to $5 billion in hair care sales each year. Its monthly social, consumer reach is 26 million across a portfolio of digital brands, including its Market Research & Insights division, CurlyNikki and NaturallyCurly.