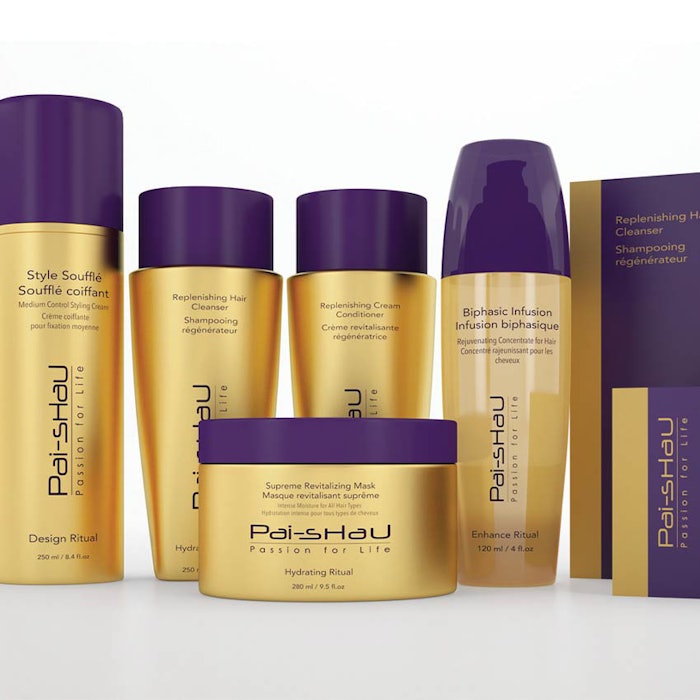 Pai-Shau Hair Care has released a line of products designed around Vietnamese hair care rituals and a tea complex comprising black tea for luster, shine and body; green tea for scalp circulation and healthy hair growth; pu-erh tea for hair rejuvenation; white tea to protect against environmental stressors; and rooibos for natural proteins.
Further reading: Nutricosmetics: Eat and Drink Your Skin Care
The formulations are lightweight and include:
Pai-Shau Enhance Ritual Biphasic Infusion (MSRP: $45.00/4 fl. oz.) is a multipurpose primer that moisturizes the hair's structure. The infusion includes antioxidants and amino acids.
Pai-Shau Hydrating Ritual Replenishing Hair Cleanser (MSRP: $26.00/8.4 fl. oz.) contains amino acids, vitamins, minerals and tea extracts and protects hair from environmental stressors while restoring natural vitality and shine. 
Pai-Shau Hydrating Ritual Replenishing Cream Conditioner (MSRP: $28.00/8.4 fl. oz.) rehydrates hair wile replenishing its sheen. The cream comprises rice amino acids and hydrolyzed oat proteins.
Pai-Shau Design Ritual Style Soufflé (MSRP: $32.00/8.4 fl. oz.) is a styler containing antioxidants to nourish and repair hair, boost control and manageability, and retain moisture during the styling process.
Pai-Shau Design Ritual Supreme Revitalizing Mask (MSRP: $43.00/9.5 fl. oz.) contains cationic polymers that provide hydration and nourishment to dry, damaged hair.