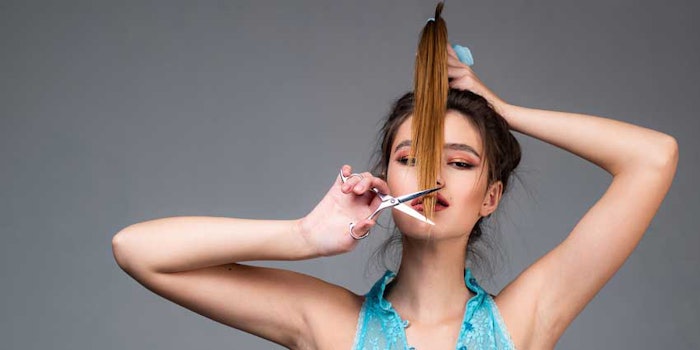 When it comes to the post-lockdown activity that people are most looking forward to, 'beauty therapy' (think: hair cut/color/styling or a general beauty procedure) ranks above a night out with friends, according to social listening data from Kantar.
Kantar suggests that without access to a hairdresser, nearly half of the consumers in countries it monitors will notice the difference, especially men.
According to Kantar, during quarantine:
The use of styling products has dropped to an average of one occasion or fewer per week from an average frequency of three to four times a week.
Fifty percent of consumers in the United Kingdom, the United States, Spain, Germany, Italy, the Netherlands, Brazil and France will wait to see their hairdresser after lockdown.
Nineteen percent say they will ask someone who lives with them to cut their hair.
Twenty-one percent say they will color or style their own hair at home.
Fifty-five percent of women will wait for the services of a professional compared to 48% of men.
Nearly 25% of men aged 18-24 said they would rely on a friend or family member for haircuts.
Twenty-eight percent of Brazilian respondents said they would cut or style their own hair, with 15% saying they would consult an online tutorial.
In France, 13% would opt to give themselves a haircut and 18% would ask a housemate.
Forty-four percent of U.S. respondents said they will wait to visit a professional.
Mavens of London's data from March 13 through April 13, 2020, found:
Google searches for "beard trimmers" increased 36% from February 2020.
Searches for "hair clippers increased by 181%.
Searches for "hair coloring" increased by 37%.
Searches for "buzz cut" increased by 91%.
Searches for bright hair colors—orange, blue, purple, green and pink hair dye—increased by 117%.