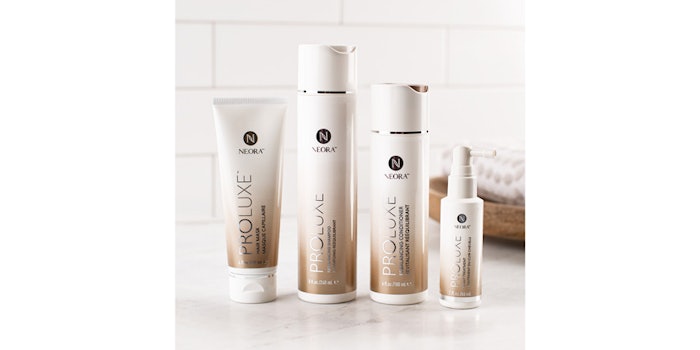 Neora, which specializes in science-based skin care and wellness products, has launched its first hair care line.
The ProLuxe Hair Care System is meant to address signs of damage and aging by combatting damaged texture, decreased strand size and dullness. In addition, the products were created to increase color retention and restore the hair's strength, shine and youthful appearance.
The four-step system includes:
ProLuxe Rebalancing Shampoo, a scalp-balancing shampoo meant to cleanse and strengthen.
ProLuxe Rebalancing Conditioner, a nutrient-dense conditioner meant to nourish hair and restore its soft, smooth and youthful appearance.
ProLuxe Scalp Treatment, a daily leave-in treatment meant to create the ideal environment for producing the appearance of stronger, thicker and younger-looking hair.
ProLuxe Hair Mask, a weekly treatment meant to find and repair damage to the hair shaft.