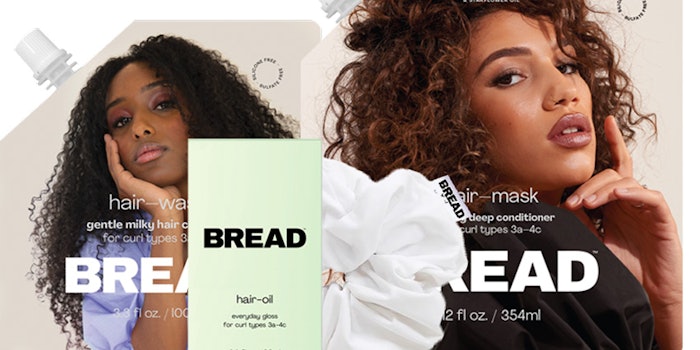 Bread hair care, designed with ethnic hair in mind, launched a collection of three essential products for textured hair that simplifies one's daily routine to hair wash, hair mask and hair oil instead of promoting heavy product usage and styling, according to the brand.
Further reading: 16 Black Hair Artists and Educators to Follow
Founder Maeva Heim felt there were gaps in representation in the beauty space for women of color and created this vegan, cruelty-free brand based around embracing her natural hair texture.
Heim told Global Cosmetic Industry, "Typically, women with textured hair have not been included in the conversations around the ideal of 'lazy girl,' or 'done-undone hair,' with minimal and effortless maintenance and styling. This is something that I want to change. Hair routines, and the rhetoric around Black hair, has been dominated by messages of heavy product usage, excessive routines, styling and hair manipulation. Bread embraces simplicity in hair care and we want to give our audience the products and tools to embrace it too."
The founder added, "I noticed that there was a broadly consistent look and feel for brands across the textured hair category, and that there was an established idea around what it meant to have 'good' curls. This often meant a super glossy and defined 'no curl out of place' Photoshopped look that just isn't realistic for day to day life, and is often not achievable for all curl types—especially women like myself with 4C, super coiled hair. More broadly across the hair industry, I found that a lot of the language used seems to unnecessarily demonize traits that are natural to curly and coily hair specifically. Terms like 'anti-frizz', or 'taming' or 'unruly'. What's so bad about frizz anyway? Hair can still be healthy and exhibit frizz. As a brand, I want us to help make 'frizz' aspirational."
Products in the collection include:
Gentle Milky Cleanser, sulfate-free hair wash that takes care of build-up and debris
Creamy Deep Conditioner, vegan hair mask made for dehydrated coily and kinky textured curls
Everyday gloss, silicone-free hair oil that coats strands
Bread is available online at BreadBeautySupply.com and Sephora.com. Products range in price from $20-$58.