Salon inspired products have provided a boost to hair care. Hair products that mimic offerings sold in salons are doing well in mass-market channels in the U.S. Salon-inspired products are considered by consumers to be of higher quality, and brought growth to a slow hair care market in 2005. Alberto Culver's TREsemme was a stand out in this category with offerings in shampoo, conditioners and styling agents. Its image as a high-quality salon product at a low cost is helped by its packaging in larger bottles, reminding customers of more expensive shampoos and conditioners offered in salons.
John Frieda is another brand with strong salon inspired roots. The color focused shampoos and conditioners offered for blonde, brown and red hair helped continue the companies strong growth. Conditioners were a highlight in the John Frieda line, which experienced 29% value growth in 2005. In particular, the new offering for red haired consumers is expected to do well relative to the more limited number of redheads in the U.S.
Growth in the John Frieda brand in the U.S.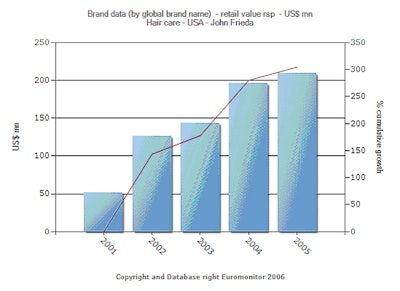 Euromonitor: For Cosmetics & Toiletries Market Reports