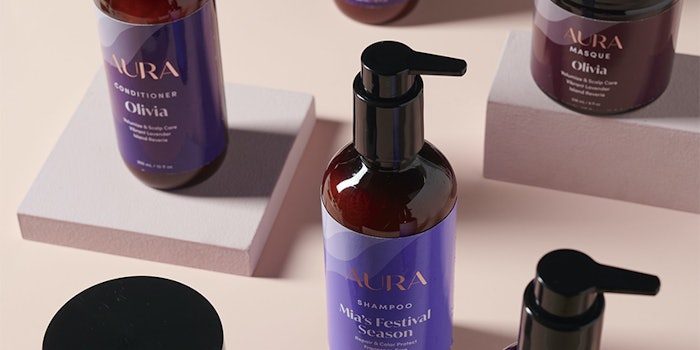 Aura, created by the company eSalon, has launched a  personalized hair care line of shampoos, conditioners and masques and includes the option to add a semi-permanent pigment. 
Related: The Manetabolism Collection by The Mane Choice
The semi-permanent pigments in its conditioners and masques are designed to wash out over time. Pigments come in three different categories:
Fantasy shades, which include Tulum Pink, French Lavender and Maldives Teal. These are available in three different intensities, for a hair color transformation that's bold and bright or opt for a more subtle change.

Classic shades, which are designed to enhance or refresh colors.

Neutralizers, which can help to offset unwanted tones. 
Customers can also select from five aromas, adjust the scent strength or opt to go fragrance-free. Aromas range from Moonlit Woods, featuring notes of green apple, blackberry and sandalwood, to Botanical Dream, a natural aroma with notes of lavender and crushed mint leaves.
All formulas are vegan, cruelty-free and paraben-, SLS- and SLES-free. They are also packaged in bottles and jars made with 100% recycled materials.
Aura's products are designed to evolve with customers over time, allowing them to easily change their goals, aroma and pigment selection, along with the intensity of these attributes. 
Graham Jones, CEO, eSalon, said, "eSalon's biggest strength is our understanding of the client feedback loop over time. Launching Aura and offering customers formula and shade adjustments in a new market segment is a natural next step for us to leverage what we are good at."
Vera Koch, vice president of global marketing, Aura, said, "Aura embraces the spirit of transformation, from enriching general hair texture like defining curls or voluminous hair, and enhancing or changing color, to inspiring a sense of confidence. We hope to help people feel that their hair is an extension of their own Aura. Because when you look into the mirror, all you should see are endless possibilities."