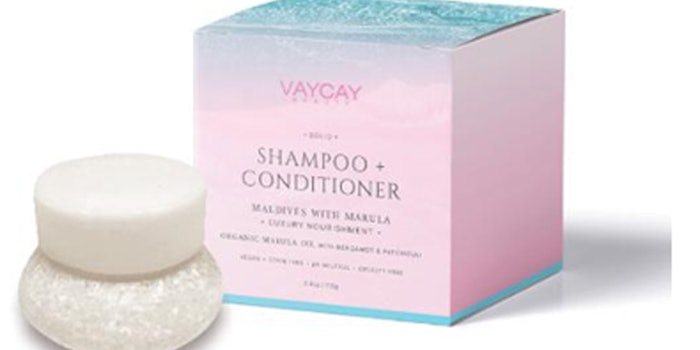 Vaycay Beauty has launched its Solid Shampoo and Conditioner natural hair care bars in plastic-free packaging.
Related: Hairitage by Mindy McKnight Expands Portfolio
The shampoo and conditioner bundle, Maldives with Marula, caters to all hair types and combines organic marula oil with bergamot and patchouli essential oils, along with ingredients such as cocoa butter, coconut oil and grapeseed oil.
Vaycay Beauty is committed to providing sustainable and plastic-free products as well as providing the nourishment needed for textured hair.
All Vaycay Beauty's products are handmade in the United States with natural ingredients and are formulated without parabens, SLS/SLES, formaldehyde, propylene glycol, detergents, silicones, phthalates, sodium chloride or palm oils.
Founder Ashlene Nand, who created her own inclusive hair care brand with a focus on delivering an experience beauty customers are familiar with, said, "Plastic-free is the future and BIPOC customers are being ignored. While on a journey of embracing my natural Indian hair, I noticed there weren't any products on the market that catered to me. The goal of this collection is to show that we don't have to sacrifice inclusivity when shopping for zero-waste products. And it doesn't have to come in a brown paper bag, either. Zero-waste can be luxurious. It can feel like a Sephora or Ulta product even without the plastic. "