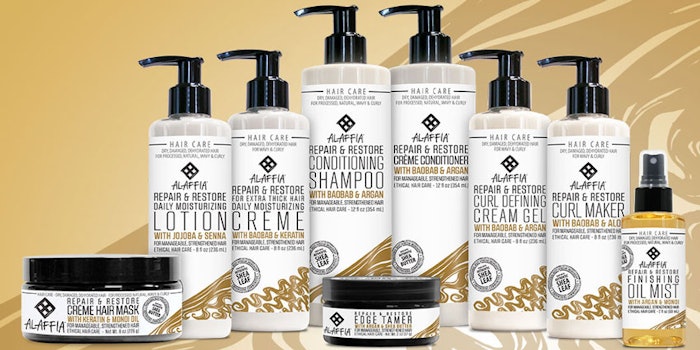 Alaffia has announced the launch of its newest hair care range, the Repair & Restore Collection. 
The collection is meant for all hair textures, including straight, overly processed, coarse, natural, wavy or curly, according to Alaffia. Key ingredients include argan oil, monoi oil and keratin. 
Products include:
Conditioning shampoo, retailing for $16;
Crème Conditioner, retailing for $18.50;

Daily Moisturizing Lotion, retailing for $14;

Daily Moisturizing Crème, retailing for $15;

Curl Defining Cream Gel, retailing for $15;
Edge Tamer, retailing for $10;

Crème Hair Mask, retailing for $18.50;

Curl Maker, retailing for $15; and 
Finishing Oil Mist, retailing for $9.50.
Global Cosmetic Industry caught up with Daya Fields, Alaffia's senior vice president of marketing & product development about why consumers are increasingly seeking out products with natural ingredients and ethical products, and what's next for the brand. 
Daya Fields (DF): "Alaffia's new Repair & Restore Collection is comprised of nine hair care and styling products that address dryness as the core hair issue, as well as dehydration and healing past processing and environmental damage. Our consumers have told us they want hair products that quench the thirst of depleted hair, and we believe Repair & Restore is the solution they've been looking for ... Since launching on Alaffia.com, there has been an incredible response— we've seen sales that affirm there is a great desire expressed by consumers to use and to try products that have naturally sourced ingredients. Alaffia's dual promise of restorative powers plus performance-based gusto, with the right price, meets a universal appeal. Additionally, these are products that focus on meeting the needs of all dry haired consumers inclusive of texture: from straight to natural to wavy to curly."
Global Cosmetic Industry (GCI): The idea of natural ingredients and ethical production is at the core of Alaffia, why do you think consumers are seeking out more companies with these core values?
DF: Our research shows that modern consumers are very aware and passionate about social issues. They want to utilize their resources on companies whose values align with their own. Alaffia is more than just a beauty brand—we're a social enterprise that produces efficacious beauty products, made safe, so our consumers can feel comfortable with what they are putting on their skin. Additionally, each purchase helps improve lives and gives communities in West Africa the opportunity to self-empower & self-sustain. "
She added: "Alaffia is committed to using Fair Trade ingredients and supporting social, economic and environmental sustainability. We're incredibly proud of the work our teams in both Washington state and West Africa have done to improve close to 80,000 lives through a range of reinvestment in empowerment projects."
GCI: What's next for the brand? 
DF: "There's so much happening at Alaffia! On the product side, we're excited to step into new categories in the beauty space—which we hope to share with you soon—while staying true to our core values: Fair Trade, natural ingredients, free from all things that cause eventual harm, as well as, ethically sourced shea butter and coconut oil. Beyond new product launches, Alaffia's leadership has recently received wonderful recognition from the private and public sectors. Olowo-n'djo Tchala, our founder and CEO, was recently awarded EY's prestigious Entrepreneur of the Year Award for the Pacific Northwest region—an honor recognizing business leaders making a real-world impact through innovation and personal commitment to their businesses and communities.
"Equally as exciting, Olowo-n'djo was appointed to the U.S. Trade Advisory Committee on Africa (TACA), a four-year term that provides the opportunity to advise on trade policy and development matters that have a significant impact on the countries of sub-Saharan Africa—bringing us back to Alaffia's mission of reducing poverty on the continent and around the world."