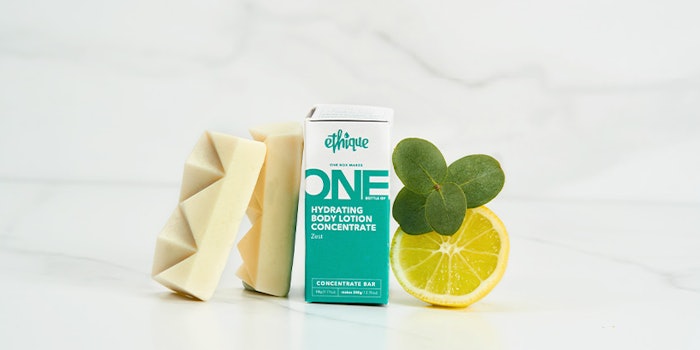 Ethique has launched its range of hair and body concentrates made from solid bars that when diluted with water break into tiny pieces. 
Previously: Superzero Hair Soap Brand
The zero-waste personal care product is made in its 100% compostable packaging. 
The body lotion & body wash concentrates are hydrating body lotions and body washes free of palm oil and packed with nourishing ingredients like lime oil, orange peel powder, cocoa butter and jojoba oil.
They are available in Zest Refreshing, Flourish Hydrating, and Unscented Gentle.
The shampoo and conditioner concentrates are made with ingredients such as fair trade cocoa butter and coconut oil, scented with essential oils and pH-balanced.
All shampoos and conditioners create 350 g of liquid product and are free from petrochemical derivatives, parabens and synthetic fragrances.
They are available in Bloom Hydrating, Sorbet Balancing and Unscented Gentle.