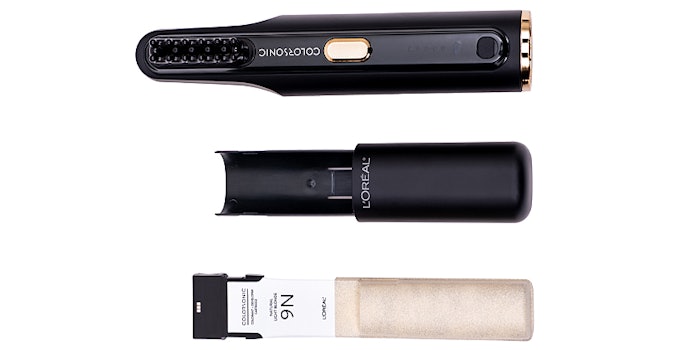 Ahead of CES 2022, the consumer technology association trade show, the L'Oréal Group unveiled its latest beauty technologies for the hair color category. Colorsonic is a lightweight, handheld device that uses a mess-free process to mix hair color and apply it evenly—delivering consistent color results for consumers at home. Coloright is an AI-connected hair color system for salon stylists that uses a virtual try-on function to project desired shades along with an algorithm that can support on-demand, customized hair color with more than 1,500 custom shade possibilities.
Previously: Patent Pick: L'Oréal's Semi-permanent Hair Styler
Colorsonic
Colorsonic uses a custom mixer mechanism to combine a precise amount of developer and formula to create hair color. The device then dispenses the right dose of hair color and applies it to the hair via an oscillating nozzle of bristles as they move in a zigzag pattern to evenly distribute it on the hair. In five steps, the consumer can:
Select a hair color from 40 shades on the Colorsonic website. The ammonia-free hair color kit is conveniently shipped directly to homes.

Load the color cartridge into the device for on-demand color mixing. The color and developer are kept separate until the device is turned on, a critical component to preserving the color and keeping it fresh.

Brush hair using the device from roots to ends for uniform color application. The oscillating nozzle—tested rigorously to prevent leaking, over saturation and dripping—moves 300× per minute to cover hair quickly. An attachment is also included for those with long hair (shoulder length or longer).

Wait 30 min. Then, rinse and style.

Remove the cartridge from the device and store the remaining color for easy touch-ups and gray coverage, any time.
The unveiling of Colorsonic is a continuation of L'Oréal's commitment to delivering personalized beauty experiences rooted in sustainability. Features that reflect this commitment include: post-consumer recycled plastic; reusable gloves; and reduced shipping packaging.
L'Oréal plans to launch Colorsonic to consumers in the United States beginning in early 2023.
Coloright
As previously stated, Coloright is an AI-connected hair color system for salon stylists that creates on-demand, customized hair color.
The machine features a reader, which analyzes the client's hair, measuring factors that influence color's effectiveness, including hair color, gray percentage, length and density; and a dispenser that contains dry beads consisting of hair dye, accompanied by cartridges of base creams, developers and diluters.
Together, the dispensed components create a personalized hair color recipe. The ultra-precise machine dispenses all the components of the formula and, in total, Coloright can provide more than 1,500 custom possibilities.