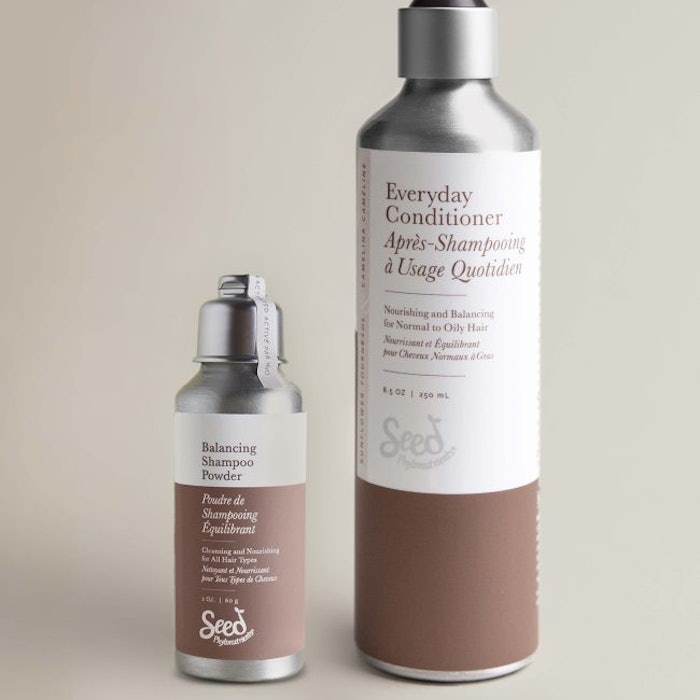 The latest in hair care news includes new coloring options from Redken, cleansing powder from Seed Phytonutrient, thinning hair and scalp treatment from Petal Fresh and mentorship opportunities from Dark & Lovely.
Related: Curly Hair Care Roundup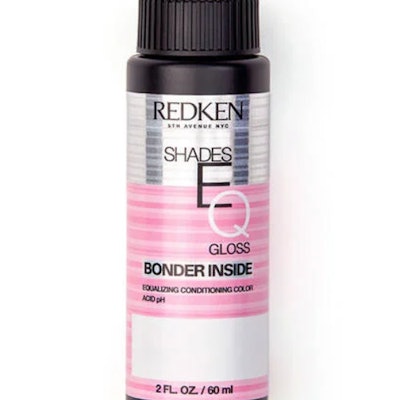 Redken
Redken added the Ash Gold Shade family to its Shades EQ Bonder Inside collection to achieve a natural-looking beige-blonde. The shade is available in three levels—07AG Smokey Beige, 09AG Glossy Greige and 010AG Misty Beige. The formula is comprised of Ash to tone down brass and Gold to add a more natural result and shine.
The premixed shades create creamy tones and the all-in-one toner and bonder is intended to provide fast color with results. It is formulated with citric acid and taurine to strengthen hair and reduce alkalinity.
Redken Shades EQ Bonder Inside Ash Gold family is available at SalonCentric stores and saloncentric.com.
Redken brand ambassador Philip Foresto said, "Getting the perfect Greige for my clients has always been the ultimate challenge, but now this new Shades EQ Ash Gold family is revolutionizing the blonding game, making it easier than ever to achieve this unique hair color and help it come alive with a new vibrancy."
Redken brand ambassador Rachel Redd said, "This is a great product for my clients that are looking for that trendy Greige Blonde look, allowing me to customize their perfect color. It's so easy to use and I know I'm leaving their hair healthy. I've personally been using the new reflects on my clients and it never fails to give me incredible results."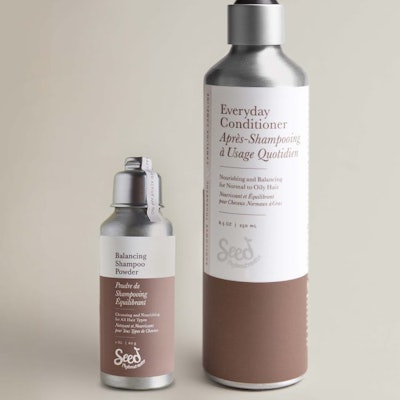 Seed Phytonutrients
Seed Phytonutrients' Concentrated Cleansing Powders makes products as lightweight as possible by eliminating water and upgrading its packaging to aluminum, which has a high consumer recycling rate. 
Balancing Shampoo Powder is infused with sunflower and camelina seed oil and transforms into a creamy foam once water is added. It is intended to clean and add beautiful volume, bounce and shine. It is ideal for all hair types; it costs $24.
Clarifying Shampoo Powder is infused with rolled oats, carrot and spirulina to transform into a creamy foam once water is added. Micro exfoliating grains provide a mild scalp exfoliation with every shampoo. It is ideal for oily hair and scalp or for a deeper clean; it costs $24.
Exfoliating Body Cleanser uses jojoba, turmeric and walnut seed oils/powder to cleanse and polish, leaving skin smooth, soft and supple. It costs $24.
Purifying Facial Cleansing Powder uses pink kaolin clay, raspberry and grape seed oils to remove excess sebum and impurities and keep skin radiant. It is intended for oily, congested skin; it costs $28.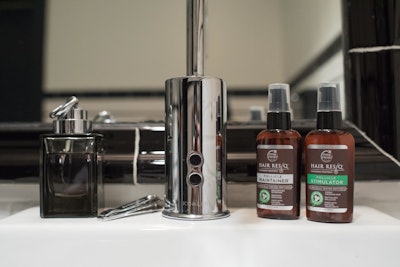 Petal Fresh
Hair ResQ by Petal Fresh is a collection that includes scalp-protecting shampoo, conditioner and serum. It is intended to treat thinning hair and itch scalp. The hair care products use biotin-B complex to increase thickness, caffeine to energize the scalp and peptides to target DHT, a hormone that causes hair loss.
Ultimate Thickening Shampoo Normal Hair is formulated with peppermint, rosemary and green tea extracts. It uses plant-based technology to stimulate hair follicles and purify the scalp and resotre keratin in the hair cortex. It is available in original formula, oil control, lightweight moisture, and color protection; it costs $7.98.
Ultimate Thickening Conditioner Normal Hair is formulated with green tea, caffeine, peppermint and rosemary extracts to provide full and volumized hair. It is also available in original formula, oil control, lightweight moisture and color protection and costs $7.98.
Scalp Care is a Shampoo and conditioner that gently cleanse impurities and moisturizes scalp with apple cider vinegar and tea tree oil. It uses menthol and hyaluronic acid to hydrate and soothe itching. It costs $6.98.
Follice Stimulator Serum is infused with biotin-B, caffeine and peptides to promote circulation, nourish hair, amplify texture and enrich the hair shaft. Its PBC Tri-Complex uses peptides to volumize and thicken hair. It costs $12.99.
The collection is cruelty-free, non-GMO, and free from sulfates, parabens, phthalates, glycols and gluten. The formulations are vegan, pH balanced, color-safe and sustainably sourced. Bottles and caps are made from 100% ocean-bound plastic.
The Hair ResQ collection by Petal Fresh is available at HEB stores, Amazon and Walmart.
Related: Nutrafol Studies Hair Growth Across Ethnicities with its Supplements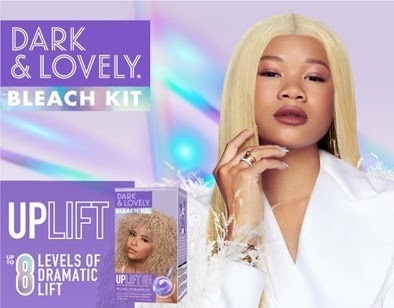 Dark & Lovely
Dark & Lovely has launched the Uplift Bleach Kit for achieving the brightest and boldest shades of blonde without damage.
The Uplift Bleach Kit features a patented two-part system that delivers up to eight levels of dramatic lift, from black to honey blonde to platinum.
The formulation comprises encapsulated oils that reportedly provide 4x more hydration than standard formulas, while maintaining hair texture.
The Dark & Lovely Uplift Bleach Kit is available for $8.49 at Walmart stores nationwide and Walmart.com.
Key ingredients: Potassium Persulfate, Sodium Silicate, Sodium Persulfate, Zea Mays Starch / Corn Starch, Paraffinum Liquidum / Mineral Oil / Huile Minerale, Sodium Lauryl Sulfate, Parfum / Fragrance, Pvp, Edta, Silica Silylate, Sodium Polyacrylate, Aqua / Water / Eau Fil T281085/4
"As a newly converted blonde, I am thrilled for the launch of Dark & Lovely's new Bleach Kit," said actress, producer and Dark & Lovely brand ambassador, Storm Reid. "This has already become an absolute must-have in my beauty arsenal. What I really love is that I can actually use it to keep my hair looking amazing from home."
"When opting to go blonde, it's important to use products that not only help you to achieve your desired hue, but nourish the hair while respecting its natural curl pattern," said celebrity hairstylist Kendall Dorsey, who styles Kelly Rowland, Saweetie and Alicia Keys. "The Dark & Lovely Uplift Bleach Kit does just that, making it the perfect at-home staple for blonde bombshells."
Related: Pantene Partners with Conditioner Collective, Chloe Fineman on 'Dream' Conditioners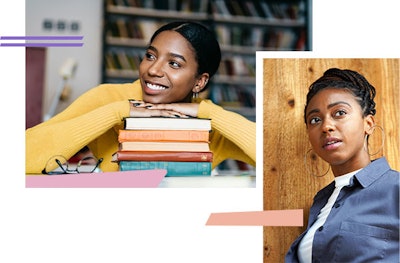 Meanwhile, Dark & Lovely is partnering with The NAACP Youth & College Division to provide scholarships, mentorship and career coaching opportunities to recent Black female graduates and those pursuing four-year degrees. The program— Beautiful Futures: Closing the Opportunity Gap—is a multi-year commitment.
The company defines opportunity gap as "the arbitrary circumstances in which people are born—such as their race, ethnicity, ZIP code and socioeconomic status—impact their opportunities in life, rather than all people having the same chance to achieve to the best of their potential."
According to The Education Trust, more than half of white women (51.4%) have a college degree, compared to 36.1% of Black women, while Black women owe 22% more in student debt.
According to Working Mother, 50% of Black women are considering leaving their job in the next two years because of a lack of support and mentors.
Dark & Lovely brand ambassador Storm Reid is supporting the program and will provide mentorship to the chosen Black female students and recent graduates.
Reid said, "As a working actress, college student and Black woman, I know first-hand how important it is to have access to resources and mentors to help you achieve your goals. You can't do it alone. That's why I am excited to partner with Dark & Lovely to help impact the lives of so many young women like myself, who hope to break barriers and shatter glass ceilings."
The mentorship initiative will include quarterly masterclasses with executives and thought leaders, one-on-one mentorship commitments from executives at Dark & Lovely and its parent company, L'Oréal USA, forums and opportunities for networking and connecting with peers, career coaching, care packages with Dark & Lovely products and early career essentials, internships opportunities and the Building Beautiful Futures scholarships: $10,000 per year, up to four years.
Together through Building Beautiful Futures, they aim to create paths to success for 16,000 Black women while reaching them at a pivotal time in their development —during their college careers AND as they enter the workforce.
Erica Culpepper, general manager, Dark & Lovely, said, "Now more than ever, young Black women are in need of actionable support that can propel them forward. Through this program, we hope to help close the educational and career equity gap by providing tangible resources that help young Black women embrace their limitless potential and shape their legacy."
Yumeka Rushing, chief strategy officer at NAACP, said, "Efforts to create meaningful and tangible change start with investment in communities and people who can benefit from it greatly. Removing the financial roadblocks college can often present while providing mentorships will leave an indelible mark on countless young Black women. We look forward to the outcome partnerships like this will have on our community."