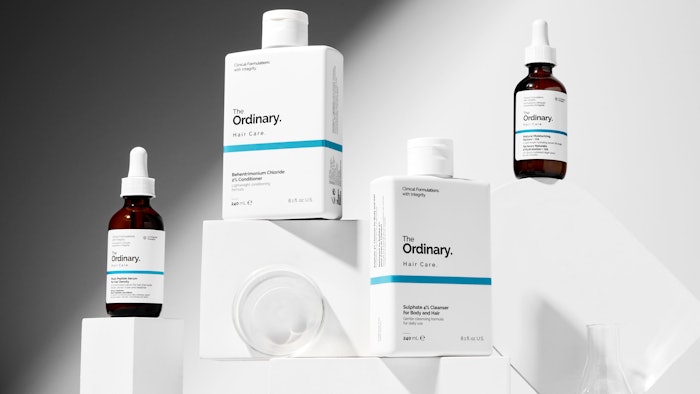 The Ordinary is debuting its hair care line February 22, 2022 and worldwide on March 8, 2022.
The collection includes:
Sulphate 4% Hair & Body Cleanser: Contains SLES-2 as a milder anionic surfactant and foaming agent. 
Behentrimonium Chloride 2% Conditioner: A creamy white emulsion that focuses solely on the multifunctional conditioning ingredient.
Natural Moisturizing Factors + HA for Scalp (exclusively sold at Sephora): A milky emulsion that is said to provide hydration to the scalp and help support scalp and hair health.
According to the brand, it does not label itself clean beauty, which includes the new hair care line, after parent company Deciem announced through its Instagram in June 2021 that "everything is chemicals, including clean beauty."
The post continued, "The marketing concept of 'clean' beauty challenges the safety and efficacy of products not deemed 'clean' by indirectly labeling them as 'dirty', disregarding the important work of scientists around the world making a monumental effort to evaluate a complete body of evidence to formulate the products that you know and love. Deciem was founded on principles of authenticity and transparency, and the unclear definition of "clean beauty" directly contradicts these values by encouraging marketing to lead over very clear science. As we all move towards a more transparent future, it's important that we continue to question the ways in which the beauty industry communicates with us."
The Ordinary's new hair care line highlights the use of sulfates in its products.