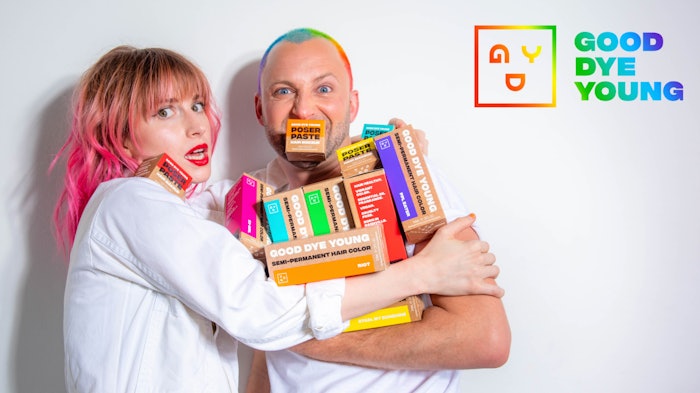 Good Dye Young is expanding its retail presence to walmart.com and more than 3,500 Walmart stores nationwide on June 25, 2022. The brand is co-founded by musician Hayley Williams and her long-time hairstylist Brian O'Conner.
Related: Andrew Fitzsimons Launches Hair Line at Boots
Good Dye Young features vegan and cruelty-free products, including fiery semi-permanent shades, a hair care line that keeps hair color vibrant and promotes healthy hair and five semi-temporary shades that last two to six washes.
The Walmart launch includes the I'm Bored Hair Makeup ($12), the brand's collection of semi-permanent colors ($18), Lightening Kit ($16) and Dyeposit ($18.50).
I'm Bored Hair Makeup is a color serum that combines pigments with a conditioning formula that deposits a semi-temporary color. It comes in five shades: Text Ur Ex, for Blondes (Rose Gold); Swipe Left, for Blondes (Gray); Add to Cart, for Blondes (Periwinkle); Thirst Trap, for Brunettes (Eggplant) and Binge Watch, for Brunettes (Cherry Cola).
Good Dye Young's Semi Perm offerings include the Colors collection, Darker Daze collection, Metal Heads collection and Lighter Daze collection.
Williams said, "Launching at Walmart affirms all the beliefs I've ever had about vivid color being more than subcultural movement in hair. It's a big moment when a chain, as large as they are, understands that this hair color thing is not going anywhere. More importantly, being at Walmart allows more access to our products. Our brand's ethos is built around healthy self-expression through hair; we believe it's an important outlet for people at any age and from any walk of life. Now we have an opportunity to reach more individuals than we'd ever have on our own and invite them into the creative community we are building at Good Dye Young."
O'Conner said, "It's unreal. Mainstream retail has always been a dream and a goal for Good Dye Young since day one. We pride ourselves on offering hair healthy, salon-quality products and we are excited to be bringing this to Walmart. Our thoughtful ingredients really set us apart from our competitors, and we are happy to give our community all the tools they need to express their true selves."